The boss of a flooded Texas chemical plant says it could explode
Hurricane Harvey's floodwaters knock out power and generators needed to keep chemicals at the facility cool.
There is "no way to prevent" a possible explosion of a chemical plant in Crosby, Texas that has been flooded by Hurricane Harvey, Arkema CEO Rich Rowe has warned. The facility's power and generators, which keep crucial chemicals cool, have been knocked out by heavy flooding.
"We have an unprecedented 6ft of water at the plant," Rowe said. "We have lost primary power and two sources of emergency backup power.
"As a result, we have lost critical refrigeration of the materials on site that could now explode and cause a subsequent intense fire. The high water and lack of power leave us with no way to prevent it," he added.
Rowe said that all of the facility's personnel have been evacuated and that federal, state and local authorities have been contacted. "...We are working very closely with them to manage this matter," he said. "They have ordered the surrounding community to be evacuated, too."
Harris County Fire Marshal's Office told ABC News that residents within a 1.5-mile radius of the facility, which is near Houston, have been told to evacuate.
The area has been hit with torrential rains and has gotten "approximately 40 inches by Monday afternoon," the company said in a statement on Tuesday (29 August). The company said that it does not believe there is any "imminent danger" but warned that, "the potential for a chemical reaction leading to a fire and/or explosion within the site confines is real."
One of the residents evacuated criticised the company in a series of tweets for failing to warn residents sooner, The Houston Chronicle reported. "You have put our lives in jeopardy," Tammy Peek wrote.
Rowe apologised to the people of Crosby and thanked local officials for their help. He said that the company had planned for a worst case scenario, but the storm had overwhelmed the company's plans, according to the Chronicle.
"It's impossible to predict with 100% confidence a situation like this," Rowe said. "No one anticipated 6ft of water."
Local agencies are receiving assistance from the Environmental Protection Agency (EPA) to deal with the situation.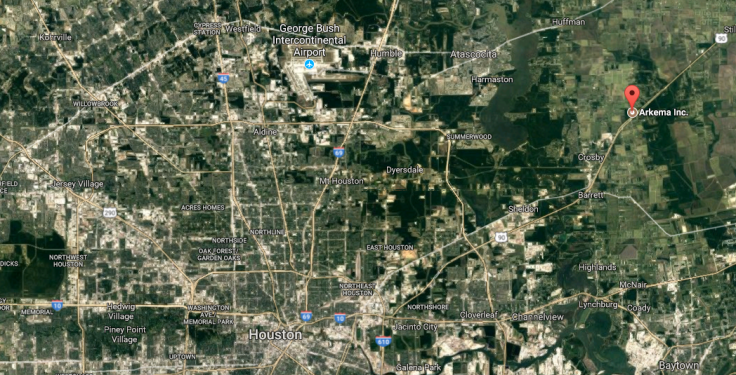 "We are aware of the situation and are working with TCEQ, who is the lead in this situation, to support them and other state and local officials to mitigate risk to human health or the environment," an EPA spokesperson said.
According to ABC News, the US Chemical Safety Board, a federal agency that investigates and helps clean up chemical accidents, has also been alerted. "The CSB is aware of the situation through news reports. We don't have any other information other than what we are gathering from news reports," the agency said. "We are prepared to deploy to any incident that might results from Hurricane Harvey."
According to the Chronicle, it could be six days until the floodwaters at the Arkema plant recede enough to allow staff to gain access to the chemical stores.
© Copyright IBTimes 2023. All rights reserved.