A US Army soldier kissed and posed next to the black flag of Isis, according to the US attorney's office, who have released photos of the alleged incident.
Hawaiian Ikaika Erik Kang, 34, was arrested on Saturday (8 July), charged with "providing material support" to the terror group.
It is alleged that he agreed to provide undercover FBI agents, posing as terrorists, with military documents and training.
Photos of him posing with, and then kissing, the notorious black flag were submitted during a bail hearing in Honolulu on Thursday, according to CNN.
Kang was denied bail by a judge after prosecutors argued he represented a flight risk and also posed a significant threat to the community.
He had been under investigation for more than a year prior to his arrest after reportedly making pro-Isis statements while serving in the army. He temporarily lost his security clearance in 2012.
The Iraq and Afghanistan veteran won has won a number of military honours, including the Army Commendation Medal.
His attorney suggested that mental health issues may underpin his radicalisation and subsequent arrest.
"It would appear that Sgt. Kang, a decorated veteran of two deployments to the Middle East, may have some service-related mental health issues which the government was aware of, but neglected to treat," Birney Bervar told CNN in an email.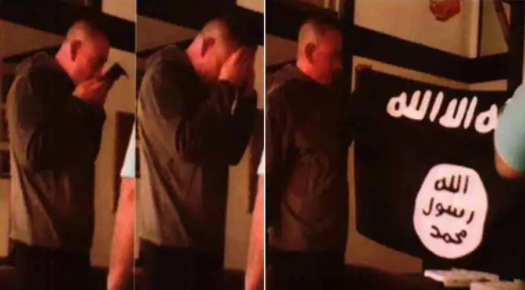 "The government should have offered a hand to pull him back, but instead it looks like they just pushed him and pushed him and pushed him. It looks to me that they've exploited his mental illness and has thrown gasoline on the fire of his mental illness to get him to commit a crime that they could arrest him for," he added.
The criminal complaint against Kang says that he has admitted to attempting to aid Isis and also join the group. He is believed to have been a lone actor.
Last month, a US Air Force veteran has been sentenced to 35 years in prison for trying to join Isis in Syria. Tairod Pugh, aged 49, of New Jersey was found guilty of trying to distribute material in support of Isis.