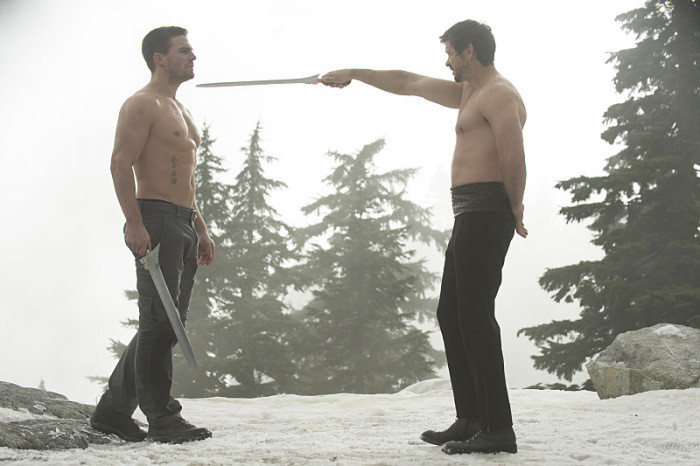 The mid-season finale of Arrow season 3 titled The Climb airs tonight (10th December) and fans are excited to see the Arrow vs Ra's al Ghul battle.
As per the official synopsis of Arrow season 3, episode 9 'The Climb', "Nyssa (guest star Katrina Law) returns to Starling City and tells Oliver (Stephen Amell) that her father, Ra's al Ghul (guest star Matt Nable) has given Oliver 48 hours to find Sara's killer or the League of Assassins will start killing the citizens of Starling City.
Laurel (Katie Cassidy) is stunned when her father (Paul Blackthorne) delivers a very special Christmas gift — her mother, Dinah (guest star Alex Kingston). Meanwhile, Ray (Brandon Routh) tries to make amends with Felicity (Emily Bett Rickards) and Oliver sets a meeting with Ra's al Ghul."
According to a Fansided report, Arrow star Stephen Amell has hinted that there could be some upcoming episodes (of season 3) that he's not in, or at least his services aren't required nearly as much.
"My guess is Ollie loses his initial showdown with Ra's (he almost has to for the League of Assassins to stay in the picture for the remainder of Season 3) and that the rest of Team Arrow has to find and/or save him after the winter break."
This storyline could also allow Black Canary to establish herself as a guardian of Starling City. Previously released photos of Canary and Arsenal working together also seem to support this theory.
It remains to be seen whether the winter finale episode will end on a cliffhanger.
Arrow Season 3 winter finale 'The Climb' airs tonight (Wednesday, 10th December) at 8pm ET on The CW.
The episode will be made available online on the CW official website. You can click here to watch.
You can also click here or here to watch the episode online via live stream.