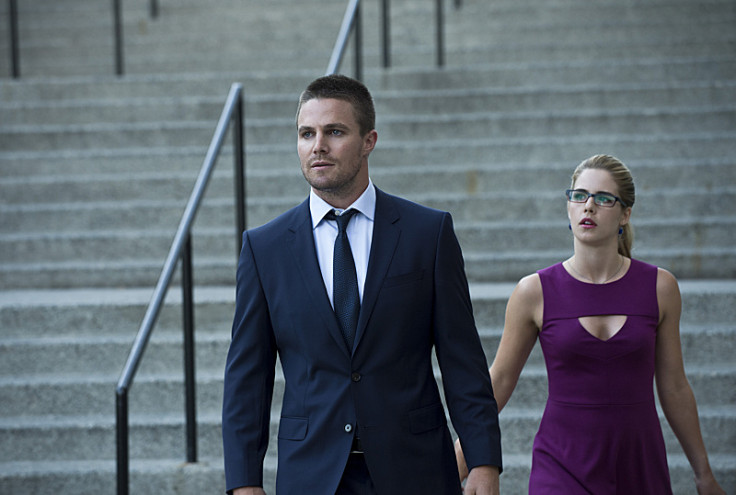 Arrow star Stephen Amell recently revealed some interesting details about his popular superhero show's upcoming fourth season. The actor also dropped a few hints about Oliver and Felicity's future on the show.
The cast and crew are all set to begin filming for Arrow season 4 in mid-July. Amell, who has received first few scripts of the new episodes teased that the show might be taking a new direction with its next season.
"It still feels like our show but there are different elements that I think people are going to enjoy," Amell told TV Junkies. "We get to see some characters interact that weren't always the closest of friends or interacting on a regular basis which is neat when you're doing new stuff in the fourth season of a show."
Arrow season 3 finale had Oliver and Felicity driving off into the sunset in a very "happy ending" kind of a scene. When asked if the couple will now permanently be together on the show, Amell replied cryptically, "Well you never know, but I think if anyone has a decent chance it's Oliver and Felicity. Time will tell."
In the comics, Green Arrow and Black Canary (played by Katie Cassidy on Arrow) are destined to be together.
Meanwhile, the actor also shed some light on the prospect of him directing an episode of Arrow in the future. Reportedly, the makers have already offered him a chance.
"I am actually interested in directing and I've been asked a couple of times if I'd be interested in directing an episode of Arrow by [showrunner] Greg Berlanti… I would like to do it eventually, but to direct an episode of Arrow I think would be a nod towards my own vanity a little bit," said Amell.
"It's not just the fact that I'm in most episodes, but it's the fact that there's a prep period before where I'd be shooting and there's cutting the episode on the B-side where I'd also be shooting. I just don't think it's the most practical instance."
Amell basically stated that he would direct an episode if it was one that would not require a huge commitment from him as an actor, giving him more time and space to handle other responsibilities.
Arrow season 4 is set to premiere on 7 October, 2015. Check out the official synopsis for the upcoming season below: