Arrow showrunner Marc Guggenheim recently confirmed that the show's next season will move away slightly from the dark tone that was quite prevalent throughout season 3, and infuse more humour and light-hearted moments. However, Guggenheim promised that fans of the popular series will not see a radical change in Arrow season 4.
"[Season 4] will take a lighter tone," Guggenheim told io9. "We've been working for about a month now in the writer's room, talking about season 4, and I think that one thing we all collectively understood was season 3 beginning with Sara's death, because it's the death of a major character in the show, it set the tone for the remainder of the season.
"...And I'm not the least bit apologetic for that tone. I happen to like dark and I like the fact that Arrow is a pretty dark show particularly for a network show."
"That said, every year you want to mix things up and there was sort of a collective desire on all our parts to try to inject a little bit more lightness into the show, a little but more humour. It's not going to radically change. The show's still going to be the show but in terms of tone, we're coming off a very, very hard season for all of our characters. We wanted to try to mix it up a little bit," the showrunner added.
Season three ended on a surprisingly happy note, with Oliver and Felicity driving off into the sunset. During a recent interview, actor Stephen Amell told E! Online, "Arrow is done. No more Arrow suit. I've worn the Arrow suit for the last time."
So does Amell really mean that? The actor further explained this idea to TV Line: "Roy outed himself as the Arrow, so if I were to re-create the suit and go out, it would undo all of the sacrifice that he made. So the Arrow persona, for better or for worse, it can't exist anymore."
However, Amell later left a subtle hint that Oliver might return as Green Arrow - the lighter, wittier and more fun version of the DC comic character.
When asked if adding the word "Green" to the "Arrow" codename would be a way out of this situation, Amell replied, "I mean, would that do it? We'll see."
Rumours seem to strongly suggest that the show will incorporate the Green Arrow identity in to season 4. While we wait for more updates on that, check out this pretty cool fan-art for Arrow season 4 featuring Amell as well as Green Arrow.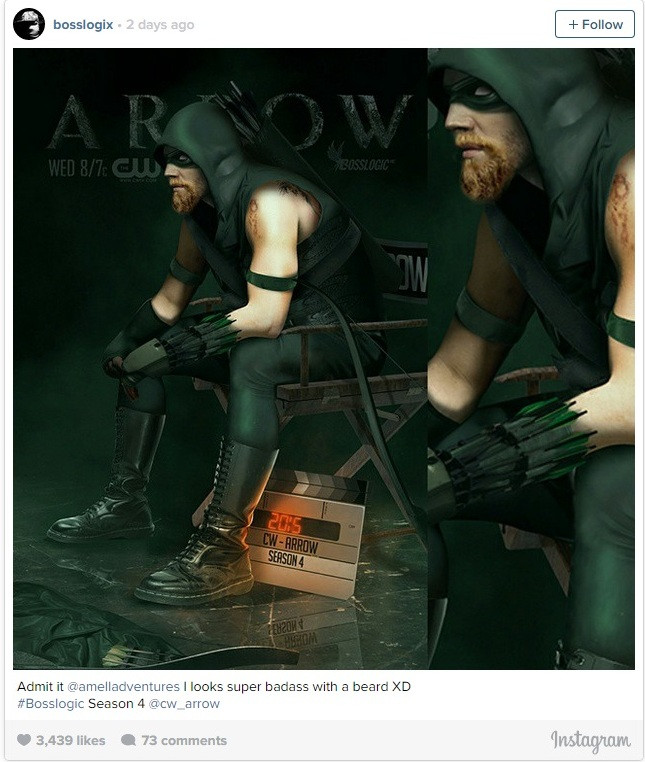 Arrow season 4 is expected to premiere on 7 October 2015.