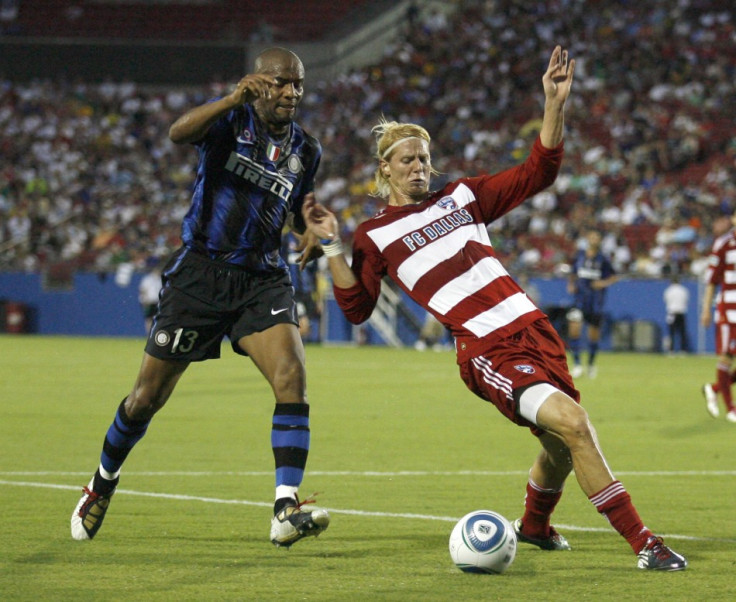 Brek Shea would be interested in a transfer to Europe, according to his agent, as the winger completed his trial period at Arsenal.
Shea was given the opportunity to train at the Emirates as the MLS entered the off season, and the Dallas star has now completed his tenure with the Gunners and headed back to America.
And Shea's agent Patrick McCabe believes that the 21 year old will now settle back into life in the USA, but would consider returning to Europe permanently if the circumstances suited.
"Brek is expected back in Dallas," Patrick McCabe told Goal.com. "He had a great training experience with Arsenal and is looking to build on that in the [U.S. national team] January camp.
He added: "It will difficult to predict how things may play out with Brek.
"He certainly would be very interested in a transfer to Europe if the right situation were to present itself."
Arsenal are always on the lookout for young players full of potential, and after Shea scored 11 goals for Dallas last season, the 21 year old has been an attractive prospect for Arsene Wenger.
But the MLS side are reportedly insisting that USD$8 million will be the minimum that the club will accept from any interested party, which could be a stumbling block if Wenger is still unsure of the player's potential.
Manchester United and Chelsea were also said to be interested in Shea, but Arsenal were able to steal the march on their rivals and lock the winger down.
"[He will] practice with the top team when it's possible, practice with the best prospects of the club as well outside the normal sessions and have a contact with top level football in the world and there's no better place than the Premier League to do it,' Wenger said as he confirmed the trial for Shea last month.
The Arsenal manager also insisted that untapped areas like America and Asia would be football's future, telling the official Arsenal website: "Two aspects of the development of the game that will certainly influence the modern game.
"One will come from the States, where football is becoming more and more popular and the quality is raising. That's one part that will interest the modern game. The second big part I'm convinced will be Asia.
"These are two now countries or continents that will be I think the future of the game. And America will produce more and more top level players and Asia as well.
"And in these two countries and continents we have as well an aptitude to have a team attitude and hard-working attitude and I think once they get the education which we are starting to get, they will produce good players."
Wenger will no doubt continue to monitor Shea's progress, along with a host of young American stars, as the MLS season starts at the beginning of next year.