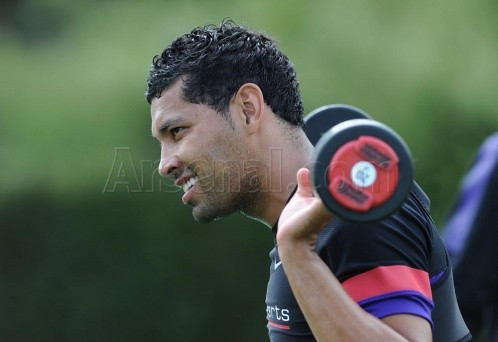 Mark Lawrenson believes that Andre Santos' shirt-swapping incident with Robin van Persie was one of the most bizarre things he has seen in football, with the Arsenal defender sending out the wrong messages about himself and the club.
Santos asked van Persie for the shirt while Manchester United were 1-0 up over the Gunners, with the striker having scored within three minutes against his old club for the first time.
While swapping shirts is common practice between players, generally the tradition takes place after a game has finished, and while Arsenal were behind, many questioned Santos' priorities as he chased the Dutchman down before he went into the tunnel.
And Lawrenson said that perhaps Wenger has to show Santos exactly how unacceptable this kind of behaviour was, with the Arsenal manager needing to use a firmer tone with the Brazilian.
"I've seen some remarkable things on a football pitch - and Andre Santos swapping shirts with Robin van Persie at half time is right up there in the top three," he wrote for the Mirror.
"I would presume the manager knew nothing about it because Arsene Wenger will surely have gone ballistic.
"It just sends out the wrong signals. In terms of Arsenal and their history this is up there with Willian Gallas throwing a strop and sitting on the ­advertising hoardings at Birmingham.
"You just wonder if, as good a manager as Wenger is, some of his players need a stronger hand.
"This is where you come out and say publicly: 'This should never happen at the club again unless it is a ­testimonial.' It is absolutely ridiculous."
Arsenal were poor against United on Saturday, with the north London club lucky to come out with only a 2-1 loss.
They had only three shots on target in the match, and Jack Wilshere was sent off for a poorly timed tackle on Partice Evra, taking away any confidence the side had that they could claw back the two goal lead.
Santi Cazorla was once more one of the few positives to take out of the game, scoring in the 90th minute to take some consolation for a game best forgotten for the Gunners.