Arsenal have turned down an offer of £2.5million from Galatasaray for defender Andre Santos as they attempt to hold out for a higher fee.
The Brazilian was signed in the summer of 2011 for £6.8million but has struggled to adapt to life in the Premier League and has been heavily criticised by Arsenal supporters who have been unhappy with his performances.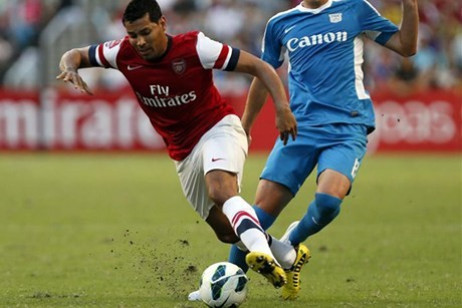 Santos has started just 13 Premier League games during his 18 month spell at the Emirates and is considered second choice to young left-back Kieran Gibbs.
The 29-year-old spent two years playing in Turkey playing for Fenerbahce and it seems he is still held in high regard as Galatasaray are keen to bring him back during the January transfer window.
The Sun has reported that their initial offer has been knocked back as Arsenal want to recoup the majority of his transfer fee and are holding out for £5million.
Santos has failed to adhere himself to Arsenal supporters who were particularly critical of the defender when he decided to swap shirts with former Gunner Robin van Persie at half-time of their game against Manchester United.
Combined with some lacklustre performances he has been far from a fan favourite. Yet, he has always stated that he wants to remain at Arsenal and fight for his place in the first team.
"I am focused on staying at Arsenal, winning a title, doing well in the Champions League, and I have three more years of my contract. I'm happy here," Santos stated earlier this month.
"I'm at a top club in Europe, living in London, my family is well structured, and I'm well adapted. I have much to give at Arsenal and I will still run after that."
However, the Sun believes that manager Arsene Wenger will be prepared to allow the left-back to leave during the January transfer window if an acceptable offer arrives.