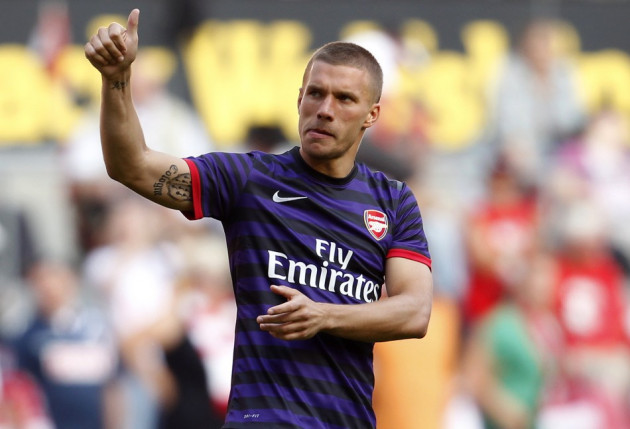 Signing evaluation
This time last year, it seemed that Arsene Wenger had finally lost the plot. After doing nothing all summer, the Frenchman launched into a chaotic flurry of last-minute action, fumbling frantically with all the finesse of Boris Johnson on a zip wire. He ended up with a host of has-beens and cast-offs - players who, frankly, weren't fit to lick Thierry Henry's jockstrap.
But now, it seems the venerable Frenchman has got his groove back. Before the window even opened, while his rivals were peering impotently through the glass, Wenger managed to snaffle Lukas Podolski, a player who has managed 44 goals for Germany - to put that total in perspective, it would put him joint-third on England's all-time goalscoring list.
Wenger followed the Podolski signing with an even more impressive coup, swooping on beleaguered Malaga to snatch Santi Cazorla, a fantasista with 45 caps for Spain. Sandwiched between these two bargains was Olivier Giroud, an imposing French striker who finished as top scorer in Ligue 1 last season.
As this column goes live, it remains unclear whether Robin Van Persie will leave for Manchester United. But even if RVP does go north, Wenger will feel confident about his attacking options after an excellent summer's work.
Pre-season form
Given that the majority of Arsenal's pre-season programme has been taken up by teams such as Dartfood, Boreham Wood and Chesham United, it's hard to read too much into their Premier League preamble. The one time they came up against crack opposition, they were brushed aside by Manchester City in China. Wenger will hope for a significant improvement when Arsenal to travel to City in the league at the end of August.
Reasons why they'll be successful
With Alex Oxlade-Chamberlain, who starred for England at the European Championships, combining with Jack Wilshire, Cazorla and his compatriot Mikel Arteta, Arsenal have the guile to unpick any defence.
If Theo Walcott recaptures the form which earned him comparisons with Henry as a teenager, and Jack Wilshire returns from his long-term ankle injury, the Gunners' offensive battery will rival any in the Premier League.
Reasons why not
Wenger may have bought some gifted attackers, but then he always does. Attack is his forte; building a defence always seems a chore rather than the pleasure it was for his illustrious predecessor George Graham.
At the back, Arsenal still look shaky. Per Mertesacker would probably lose a 10-metre sprint to Eric Pickles, while Laurent Koscielny, although much improved, is hardly in the Vidic or Kompany class. Goalkeeper Wojciech Szczesny appears destined to be a world beater, and he'll get plenty of chances to show his prowess this season.
Expectations
Since the 2004 team was broken up, Arsenal have been a team in permanent transition. Like some demented alchemist, Wenger seems to rip up each masterplan as soon as it nears fruition, before furiously sketching out a new one - denying his team the stability it needs.
This season appears little different. Arsenal's squad looks stronger than last season's, but with City and Chelsea boasting such an array of options, it's hard to see how the Gunners can improve on their third-place finish of 2011-12. Reaching the latter stages of the Champions League, and qualifying for the competition in 2013-14, probably represents a best-case scenario.
Predictions
3rd in the Premier League, with the possibility of winning one of the domestic cups.