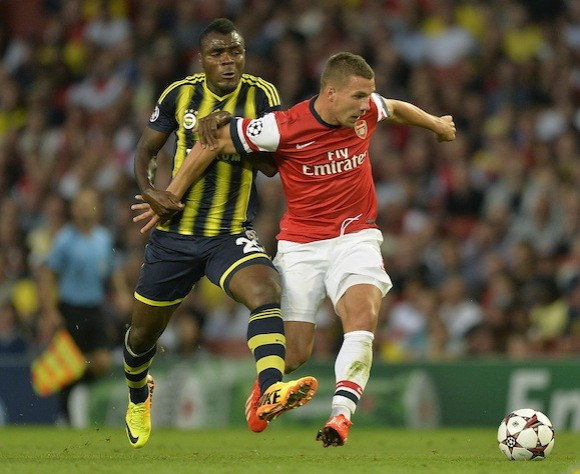 Arsene Wenger wants to see Lukas Podolski give 100% on the pitch for Arsenal as the striker's progress with the side looks to have stalled this season.
Podolski has featured in just two Premier League matches for the Gunners in the current campaign and as the likes of Olivier Giroud and Aaron Ramsey prosper in front of goal.
While Wenger has relied heavily on a German contingent including Per Mertesacker and Mesut Ozil to take the Gunners to challenge for trophies this season, he hasn't had as much faith in Podolski though this has partly been because the attacker has suffered from injury woes which have kept him out of action since September.
And the manager has now called on Podolski to put in more effort on the pitch to show he is willing to fight for his place as he returns to action.
Wenger told Bild: "Lukas Podolski is super talented, he can play very well with others, has great power, can take free kicks and scores goals from anywhere, but he can develop and become better.
"You always have the feeling that he is 80, 90 percent there, but you want him to give 100 per cent and then he'll be world class. There's more to come from him."
Wenger purchased Podolski as an eventual replacement for the outgoing Robin van Persie in 2012. He also bought Giroud at the same time and while the France international looks to have proven himself in the Premier League former Cologne-man Podolski is still adapting to the English style.
His impact for the relegated German side was unprecedented, with the forward having a hand in the vast majority of their goals throughout the 2011-12 season.
But Wenger is yet to see such performances from Podolski and the German will need to show that he is willing to fight for his place again in the Gunners' squad as he continues to recover from a hamstring injury.