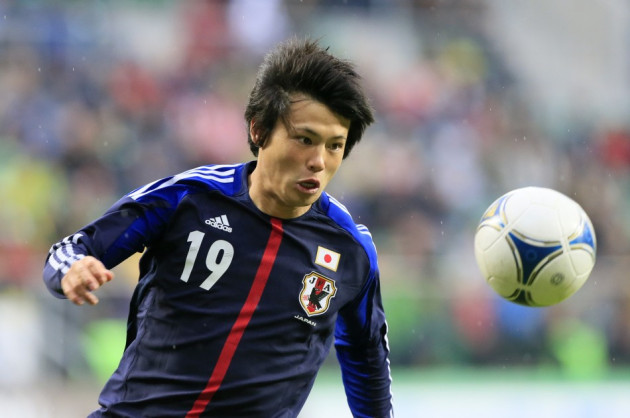 Arsene Wenger believes that Ryo Miyaichi can be a star for Arsenal in the future, suggesting the Japanese youngster only needs to mature a little bit more before he can take his place in the senior side.
Miyaichi joined the Gunners in 2011, but has since had three loan spells away from the club at Feyenoord, Bolton and Wigan. His most recent time with the newly-relegated side was dampened by injury, and he only made seven appearances over the season as a result.
But Wenger has complete faith in the 20 year old becoming an integral member of the Arsenal squad, with the winger displaying some top-class qualities already on the ball.
"I have great hopes for Ryo because he has the traditional Japanese qualities," Wenger told the Arsenal website. "Japanese players technically have a very good touch, they are mobile, agile, a bit lightweight but they move well. It's usually a player that has a great attitude towards the team.
"Ryo has a fantastic attitude for sure. He has just come out of rehab after a big knee injury, and the physios have told me they have never known an attitude like it. So he has those qualities, and as well he is tricky, has great pace, and works very hard.
"He has to learn to become mature tactically - shrewd tactically - but all the rest, he has."
Japanese players haven't so far been a great success in the Premier League, with only a handful of players making the step up to the English game from their home country.
One player who didn't work out at Arsenal was Junichi Inamoto, who moved to the club in 2001 but only featured four times for the squad before working his way through six more European sides over eight years, before ending up back in Japan playing for Kawasaki Frontale.
And Wenger believes that he didn't have the physicality for the Premier League, whereas Miyaichi does.
"He missed something," he explained. "He had the basic quality but he missed something in the physical aspect, stamina, to be a box-to-box, up-and-down midfielder in the Premier League.
"Also at that time he lacked a little bit of belief in his qualities, because he was a very good footballer, Inamoto, but he was still in a period when the Japanese players didn't feel they were at the level of the rest of the world."