Bayern Munich progressed to the quarter-finals of the Champions League but it was a far from comfortable night for the German side as Arsenal claimed a 2-0 victory that ultimately saw them knocked out on away goals.
Olivier Giroud game the Gunners a glimmer of hope when he opened the scoring in just the third minute and his fellow Frenchman Laurent Koscielny then made it a nervy final few minutes as he added a second after 84 minutes.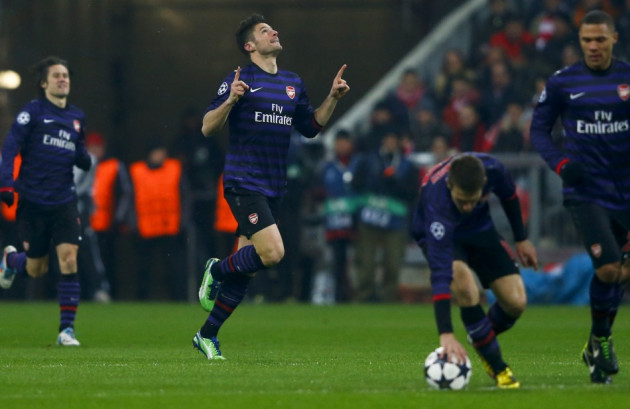 Arsenal continued to push for a third goal that would have seen them pull off a miraculous recovery but they eventually came up just short as a nervous Bayern Munich held on for the final few minutes.
It was a dream start for Arsene Wenger when just minutes into the game as a fine delivery from Theo Walcott was met by Giroud who was able to prod home from just six yards to give them a sense of real hope.
Walcott continued to cause problems in the first half with his direct runs and searing pace and there was little threat from the German side as Luiz Gustavo, Toni Krros and Arjen Robben all failed to make the most of opportunities.
However, stand-in goalkeeper Lukasz Fabianki was rarely troubled in the opening 45 minutes and it was not until well into the second half that he was forced to produce a superb save from Robben.
The winger latched onto a beautiful back heel from Thomas Mueller and raced down the left flank. He left Kieran Gibbs for dead but Carl Jenkinson did superbly well to cover and put off the winger as his effort was comfortably saved by the Polish keeper.
Kroos continued to be wayward with his shooting and Gustavo did go close with a curled effort that went just wide of the post, but Fabianski continued to look relatively comfortable.
Bayern were beginning to look nervous and the crowd sensed it as there was a deadly silence around the packed Allianz Arena.
There were even further shocked when in the final ten minutes a Santi Cazorla corner was met by the head of Laurent Koscielny who sneaked in front of a number of Bayern defenders to give Arsenal a slim chance of advancing.
Unfortunately for Wenger's men they were unable to create another chance and it was Bayern Munich that made it into the quarter-finals of the Champions League.