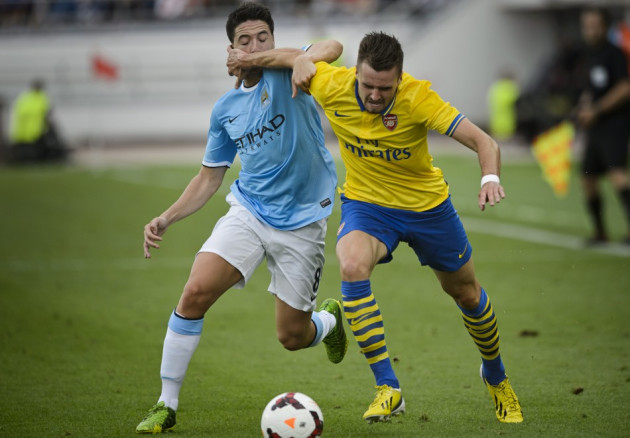 Carl Jenkinson has warned Bacary Sagna that he is after his right back slot in the Arsenal first team, a position he wants to claim as his own for England in time for next summer's World Cup.
The 21-year-old was given the opportunity to start on the right side of Arsene Wenger's defence on a consistent basis in the first half of last season as Sagna struggled with injury, excelling with his new found responsibly that also earned him his first England call up for a friendly against Sweden.
The Frenchman has found himself utilised in a centre half role on occasion during the early stages of the season allowing Jenkinson to occupy the right hand side of defence, a position he has started from in three Premier League games including the 1-0 win over arch rivals Tottenham Hotspur, one where Sagna was left on the bench.
"It is something I am more than capable of," Jenkinson told the London Evening Standard on his hopes for a first team role for club and country.
"This is a big season for me, a massive one. I believe in my ability but I am getting to the stage now where I need to be making that right back spot at Arsenal my own. This is an opportunity to show I am ready.
"I have made a positive start to the season and I want to use that as a good building block to kick on from here.
"I have done well but I know there is more to come from me, which is frustrating. It is a friendly rivalry with Bac and I have got the utmost respect for him.
"He has been a great full back at the highest level for a long time now and has been one of Arsenal's most consistent performers over the years. But at some stage, you want to make that spot your own and Bac knows that.
"Hopefully that competition is pushing him on and I think it is, because he has had a great start to the season."
At international level, the lack of an established right back option gives Jenkinson further hope. Kyle Walker, Glen Johnson and Micah Richards would all consider themselves in the running for the role but be it through, injury, inconsistency or loss of form none had been able to nail the position down as their own.
"When I am playing at my best, I am more than capable of being England's right back," Jenkinson said.
"The main thing with Roy Hodgson is he wants to see players playing and that is something I have to make sure I am doing, There are a lot of talented English right backs but that is part of the challenge. I will not be booking any summer holidays in a hurry."