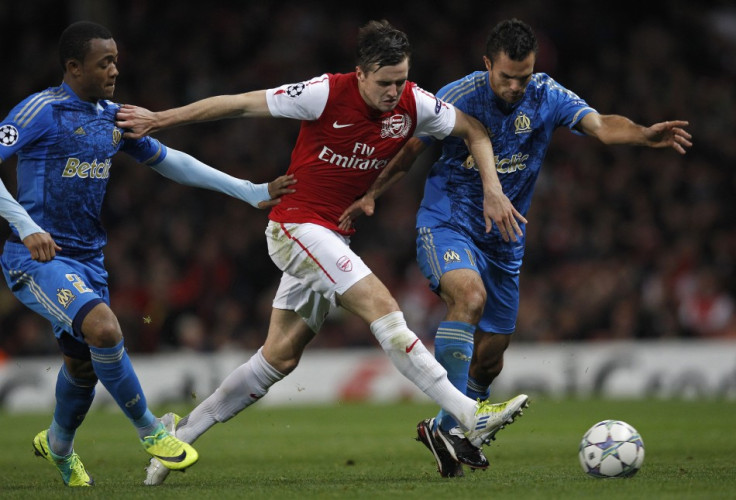 Carl Jenkinson will give Arsenal a much-needed defensive boost, with the 20 year old making a return to the reserves this week in preparation for a comeback to Premier League action.
Jenkinson has suffered from an ongoing back injury that has kept him out of action for the last three and a half months, and the youngster insists he feels better than ever as the Gunners look forward to an all-important match-up against bitter rivals Tottenham.
"It is fantastic to be back," he told the official Arsenal website. "It has been really hard coming in every day and doing my rehab stuff, but I am delighted to be back now.
"The injury felt fine; I had no problems with it at all, which is great news because you never know how you are going to react in a game.
"It is a family club at Arsenal, so there are always people who will put an arm around you and try to help you out.
"The medical team have been fantastic, keeping me motivated and making sure I am doing the right things. I have got a lot to thank them for in terms of getting me back to where I am now, so I am very grateful to them."
Arsenal are facing a difficult situation in their defensive line-up, and after Per Mertesacker was ruled out for the near future with injury, the side's weaknesses were particularly exposed in their 4-0 loss to AC Milan in the Champions League round of 16.
But with Jenkinson back, the side will have some much needed support at the back, and after the Finland Under 21 international put in some top performances before his injury, he can't wait to get back on track with Arsenal's senior side.
"I felt like I was starting to come into my own [when it happened] - that was the most frustrating thing," he explained.
"In the last few games I played I was starting to show people what I could do and to then get a setback was hard to take.
"Three and a half months is a long time, so it has been hard work but I think you just have to focus on the future and be positive, so that is what I am going to do."