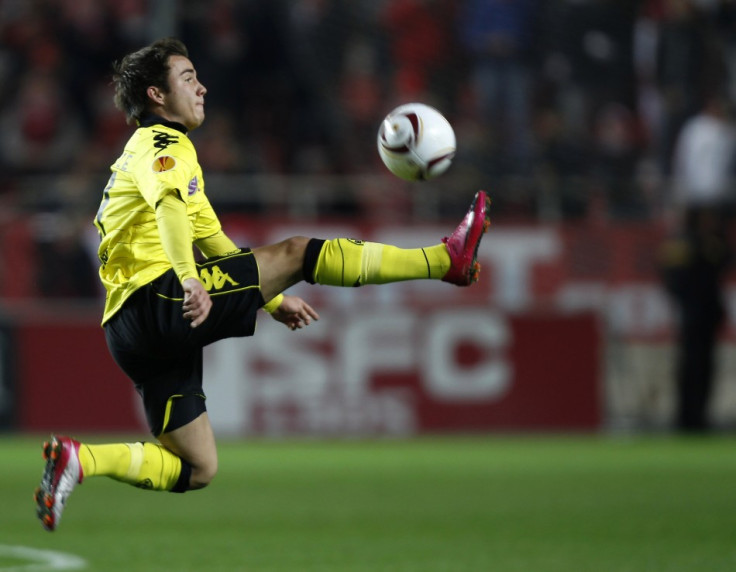 Arsenal have been dealt a double blow in their pursuit of Mario Gotze and Marco Reus, with both players insisting they are not planning on leaving Borussia Dortmund or Borussia Monchengladbach any time soon.
Gotze and Reus have both starred in the German league this season, and are the subject of a great deal of transfer talk around the globe. Clubs in England, Spain and Italy have been connected to the duo, but they won't go cheap, with a combined price of around £45 million.
And even though Arsenal can offer a better chance at acquiring a Champions League trophy than Dortmund, who were knocked out of the competition as a result of the Gunners' superiority, Gotze insists he and Reus are both happy in Germany.
"We're both playing at clubs where we are definitely not unhappy. At least, I haven't given any signals that I want to leave the club to date," Gotze told Bild, as reported by Goal.com.
Manchester United were also said to be interested in Gotze, though Sir Alex Ferguson doesn't often get involved in transfer tussles over players. The playmaker has reportedly said in the past that he is seriously considering a move to Spain, but an exit from Dortmund looks unlikely until next summer at least.
Reus also commented on the transfer speculation surrounding the pair, telling reporters: "I'm listening to it, but it's not as though I ask Dirk [Hegel, his agent] whether a new offer has come in every week. And he doesn't bother me with it."
Arsenal have admitted in the past that they admire both players, and Wenger has often maintained that though the club haven't spent big on one star in the past, they would consider doing so if the right star became available.
And though both Reus and Gotze have said they are happy in the Bundesliga, if the Gunners can get back into the top four and challenge for trophies across the board, their heads might be swayed.