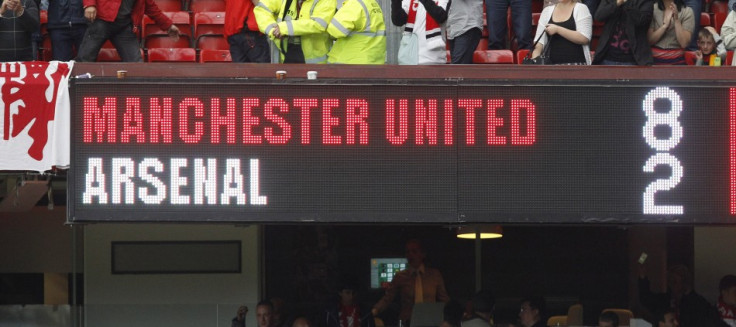 Armand Traore admits he was not physically or mentally ready for his 13th and final game for Arsenal which came during the 8-2 loss to Manchester United in August.
The Queens Park Rangers left-back left Arsenal after six years at the club on 30August but played the full 90 minutes against Manchester United just two days prior to his exit.
Arsene Wenger's out-of-sorts Arsenal were famously humbled 8-2 by Manchester United, courtesy of a Wayne Rooney hattrick and a spate of stunning goals. Ashley Young scored a memorable brace, while Danny Welbeck, Nani and Park Ji-Sung also scored. Theo Walcott and Robin Van Persie replied for the Gunners and Carl Jenkinson, who played on the opposite flank to Traore, was sent off .
The Senegalese international admits he had already mentally prepared to leave Arsenal and had fully expected to complete his move away from the Emirates prior to the game at Manchester United.
The 22-year-old suggests he was surprised to be selected by Arsenal manager Arsene Wenger for their Premier League encounter against the defending champions Manchester United, intimating he was not fully fit following a disrupted preseason.
Although Arsenal's defence was widely derided after their humbling defeat to Manchester United, Traore suggests it was 'crazy' score compounded by some "unbelievable goals".
"For me personally, I was supposed to leave before that game (Manchester United against Arsenal). It was all arranged." Traore told Goal.com.
"The game was on the Sunday and on the Thursday my agent calls me and says, 'We are going to sign for QPR in the afternoon'.
"In my head I was gone already and didn't want to be there anymore.
"I wasn't fit. Pre-season is the most important part of the season and I missed part of it at Arsenal, which maybe stuffed me.
"I came back from injury for the game against Udinese. So, personally, for me, it was a crazy score. You can talk about the Arsenal defence back then but have a look at the goals.
"At least maybe three or four, maybe five, are unbelievable goals."
Traore subsequently completed his move to Queens Park Rangers two days later and the defender admits the club's manager Neil Warnock played a crucial role in persuading him to move to Loftus Road.
"There was interest from other clubs but I liked what Neil Warnock said. It is definitely going places. The chairman [Tony Fernandes] is not kidding about this club. A couple of times he came to talk to us and it sounded good." Traore said.
"The fact it was in London as well, so I didn't have to move my family. I have just had a little boy. I learned from Juventus when I had to bloody move all the way to Italy. I thought, 'I'm going to give it a go'. That was one of the reasons and I thought I would get a good shot at playing."