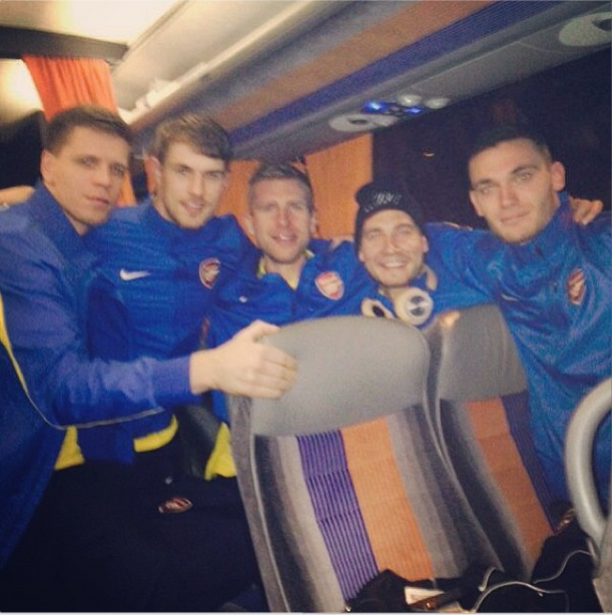 Aaron Ramsey, Lukas Podolski and Mesut Ozil have been in celebration mode after Arsenal's impressive Champions League win over Borussia Dortmund that moved them top of the so-called Group of Death.
Ramsey scored a header in the 62nd minute to hand Arsenal a 1-0 win over last season's finalists and Jurgen Klopp's men now find themselves trailing both the north London club and Napoli by three points.
It was the first time that Dortmund had failed to score in a Champions League home game since 2002 when they lost 1-0 to AC Milan and Ramsey, Ozil and Podolski couldn't contain their excitement as they turned to Twitter to celebrate.
Ozil wrote: "Everyone has seen our team spirit. It was amazing to win in Dortmund. Thanks to our supporters."
The win was certainly more proof that Arsenal will be serious challengers for silverware this season, and one of the big reasons behind this revolution at the club has been Ramsey's return to form.
He has scored as many goals this season as in the last five years of his career and the midfielder now has 11 goals to his tally in all competitions.
And the Wales international tweeted after the match, with a picture of himself and his teammates looking particularly jubilant: "Brilliant result. Incredible team performance. Happy coach right now!!"
Podolski was unable to feature for the side as the German continues to recover from injury but he was still watching the match closely, dedicating the win to the Arsenal fans.
"Unbelievable support yet again," he wrote. "The three points also belong to the AFC fans. Wherever we play they are there to support us!!!
"Congratulations, big victory on the road!!! AFC is on fire;)"
Meanwhile Jack Wilshere also missed out on the match but tweeted from his home with Benik Afobe as he works on getting back into action in preparation for Arsenal's showdown with Manchester United on Sunday.
He said before the match: "Sat at home waiting for the game to come on is quite possibly the worst feeling ever! Wish I was there! Anyway confident the lads will do it!"
And in the end Wilshere wasn't needed as Arsenal did the seemingly impossible and well and truly proved their last critics wrong.