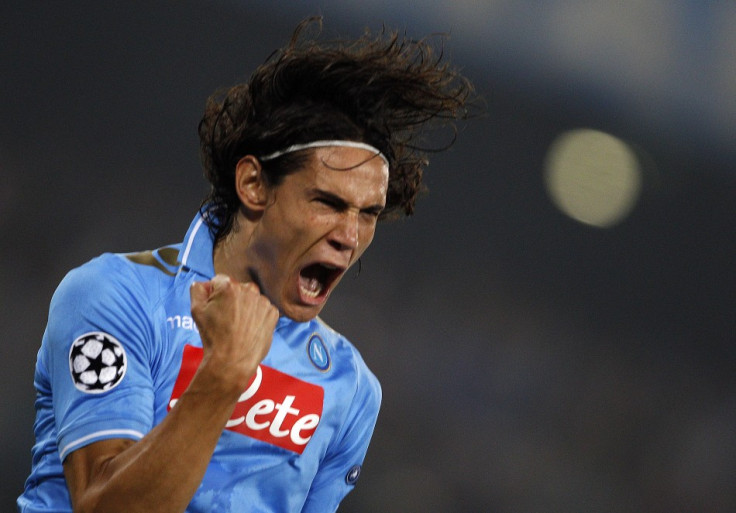 Arsenal legend Ian Wright believes Arsene Wenger should make an audacious effort to sign Edinson Cavani next month.
The aforementioned Highbury hero believes Arsenal "are only one injury away" from ruining all their recent good work, intimating Robin Van Persie is so central to Wenger's plans that he must bring someone else in to alleviate the goal scoring burden.
Wright suggests Cavani, who is nicknamed 'El Matador', would be the ideal foil for Arsenal's prolific captain and more than a worthy replacement if the aforementioned Dutchman was to get injured.
The talismanic Napoli star has been perpetually linked with a move to the Premier League over the last 18-months, particularly to Manchester City, but Wright believes Arsenal manager Arsene Wenger should join the Uruguayan's growing list of suitors even though the ex-Highbury star concedes it will be difficult to prise the forward away from the Serie A club, given their Champions League progression.
"First - and we have known this for ages - without a top-class attacker alongside Robin van Persie, Arsenal are only one injury away from everything blowing up in their faces.
"That's why I think Arsene MUST bid for Napoli striker Edinson Cavani - El Matador - if there is any chance of tempting him from Italy next month." The Arsenal legend told The Sun.
"It will be more difficult now Napoli have reached the Champions League knockout stages, largely thanks to his performances in the group games. But plenty of other clubs around Europe haven't given up the ghost, and I'd love to see (Arsenal manager) Arsene in the mix as well.
"If, heaven forbid, anything did happen to RVP, you'd fear Arsenal would be stuffed. That's a ridiculous pressure to carry on your shoulders every week."
Arsene Wenger recently intimated he was in the market for a striker given Arsenal's current reliance on Robin Van Persie, but only if the opportunity arises.
"We lose players like Chamakh and Gervinho to the Africa Cup of Nations so hopefully, touch wood, we do not get any injuries to our strikers." The Arsenal manager said.
"But if an opportunity turns up in that department then we will buy,"