Arsenal 1-1 Everton
FA Cup Third Round Draw: Arsenal v Tottenham, Manchester United v Swansea, Derby v Chelsea, Liverpool v Oldham or Mansfield, Blackburn v Man City...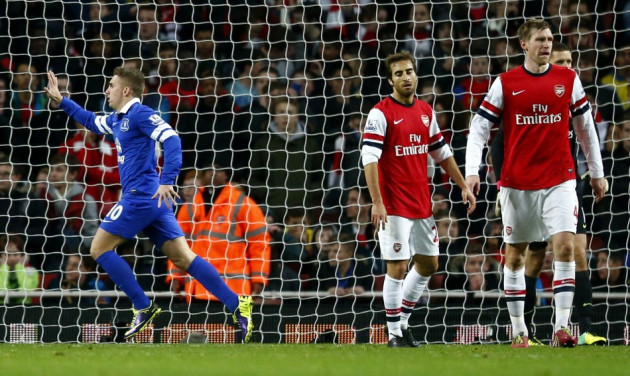 18:04: That's just about all from us this evening. A vital win for Fulham against Aston Villa followed by an exhilarating clash at the Emirates has certainly kept us entertained. Thanks for reading and join us on Tuesday and Wednesday for coverage of all the week's Champions League action.
18:00: Difficult decision as to who picks up the man of the match award, but Ross Barkley just about gets it. The teenager was at the source of everything good Everton produced this afternoon, displaying maturity beyond his years. Outshone Aaron Ramsey and Jack Wilshere.
17:55: What an outstanding game that was. On the balance of play, chances created and the desire of both sides, a draw seems to be the fair result. Arsenal move five points clear at the summit of the Premier League but were given a thorough examination by Everton. Roberto Martinez's matched the Gunners' both defensively and in attack and Gerard Deulofeu's outstanding equaliser was deserved. Just what the Toffees' are capable of this season remains to be seen, but a challenge for the top four is certainly on the agenda. One of the games of the season thus far.
FULL TIME: Arsenal 1-1 Everton
17:50: So unlucky for Arsenal and Giroud, they've hit the bar with one of the last kicks of the game! Giroud, positioned just outside the box, plucks the ball out of the air and fires a cracking effort on goal. It cruelly smacks the cross bar and bounces out of danger.
17:48: Moments later Lukaku nearly found himself free one on one with the Arsenal goalkeeper, but he is unable to sort his feet out in time. Just now the Belgian menacingly bore down on goal, twisting and turning to evade Arsenal defenders, but his eventual shot flies over the bar.
17:47: Howard jumps to punch a cross from Ozil but Arsenal get it back and swing in a corner. Distin this time leaps to clear the danger. Three minutes of added time here.
17:44: Arsenal were looking at a seven point cushion at the top of the Premier League until Everton came roaring back. Surely there is another goal in this absorbing game?
17:42: What an equaliser by the sub Gerard Deulofeu! Barkley skillfully makes his way up the pitch before spraying the ball to the left wing. It comes to the Spaniard in the box after a missed overhead kick by Lukaku but the Barcelona boy controls, takes a couple of touches and fires a powerrful curling effort that is moving all over the place past the Arsenal 'keeper.
GOAL! Arsenal 1-1 Everton (Gerard Deulofeu, 83)
17:38: Arsenal take the lead! It's Mesut Ozil well positioned at the front post to slam the ball into the roof of the net after Giroud initially failed to connect with high ball nodded on by Walcott.
GOAL! Arsenal 1-0 Everton (Mesut Ozil, 79)
17:36: Great play by Osman and Lukaku sees Mirallas emerge on goal from the left, but his powerful effort is saved. From the resulting corner Arsenal struggle to deal with the danger with Mirallas eventually swinging in an inviting cross which is met by Distin, but his header is well over.
17:34: Gibbs is furious after Howard Webb awards Everton a goal kick when he was after a corner. Replays show he was dead on with the Arsenal full back taking the last touch after duelling with Seamus Coleman.
17:33: Gerard Deulofeu waits to come on for Everton.
17:31: Koscielny wildly (and hilariously) air kicks as he attempts to strike on goal following a scrappy sequence just inside the box. Everton eventually clear.
17:29: So close from Flamini! The ball is thrown into the box with Giroud there to take control of the ball impressively. He diverts the ball back to Flamini who is positioned on the edge of the area, but the Frenchman's low driveflashes just wide of the far post.
17:27: Leon Osman comes on to replace Pienaar. 20 minutes left here.
17:26: All change for Arsenal as Wenger makes three substitutions.Cazorla is replaced by Walcott, Ramsey by Flamini and Rosicky takes the place of Wilshere.
17:24: Pienaar plays a hopeful ball across the box from the byline but instead of getting the ball clear, Wilshere bizarrely decides to let the ball run. Barkley is positioned just behind him on the edge of the area and fires a vicious effort on goal, but it is straight at the Arsenal goalkeeper, who bats it away.
17:23: Lukaku is looking a bit cream crackered out there. He's been the cause of a few Everton moves in the last ten minutes.
17:20: Theo Walcott has begun warming up for Arsenal. Can he take advantage of an Everton side who might still be feeling the effects of a brilliant but draining midweek performance against United, or are they perfecty cut out for this sort of thing?
17:18: James McCarthy, whose enjoyed another excellent performance here, picks up a yellow card for catching Aaron Ramsey. It's late, it's high and it's a clear booking.
17:14: End to end stuff here. This time it's Arsenal who threaten as Kieran Gibbs picks Ramsey out with a cross field ball. It's a terribly difficult one to get on the end of, but the Welshman drives a volley into the ground that bounces up heading towards the right hand post. Howard has already scampered over the palm the ball to safety.
17:10: Excellent stuff from Everton! Just as Arsenal begin to mesmerise with neat flicks and dinks, the visitors show they can be a dab hand at that sort of game too. A bursting Jagielka plays the ball to Barkley who feeds Pienaar first time with a wonderful flick. The South African has space on the edge of the area to shoot and duly does so, ignoring the desperate calls of Mirallas to his left. The shot is well saved by Szczesny
17:08: Excellent stuff from Arsenal with Wilshere, Cazorla and Ozil linking up all over the place. The German international swings in a cross that Wilshere hooks back into the centre towards Cazorla, but the Spaniard can only get a harmless header off in time.
17:06: Arsenal have picked up from where they left off 15 minutes ago. Gunners' players call for a penalty after a Oviedo leaps to clear a cross, but it appears to have come cleanly off his chest.
17:04: Elsewhere in the FA Cup, Southampton's Jay Rodriguez will take on his former club Burnley with all Premier League ties between Norwich v Fulham, Newcastle v Cardiff and West Brom v Crystal Palace.
17:00: And we are back underway at the Emirates Stadium.
16:51: We've also had the small matter of the FA Cup third round draw this afternoon. We can look forward to a mouth-watering north London derby between Arsenal and Tottenham Hotspur, while Manchester United and Liverpool have been drawn home ties against Swansea and Olham or Mansfield respectively. Chelsea and Manchester City face visits to Championship dwellers Derby County and Blackburn, while holders Wigan take on MK Dons.
16:47: No goals yet at the Emirates Stadium, but it has been a breathless first half. Everton took control of the half exhibiting all the assurance and confidence Arsenal have played with this season, but just couldn't find that incisive final ball on countless occasions. But Arsenal emerged from their slumber within the last ten minutes of the half, largely epitomised by a wonderful tackle from Laurent Koscielny that you will want to watch for hours. Intricate passages of play just outside the box led to the Gunners finding three good chances to take the lead that they really should have taken, if it wasn't for the reflexes of Tim Howard.
A thrilling first half here, more of the same please.
HALF TIME: Arsenal 0-0 Everton
16:46: And it's another wonderful save from Howard! More fantastic football from Arsenal, Cazorla plays the ball across to Ramsey who jumps over leaving it for Ozil. The German taps it on for the Welshman who has continued his run into the box but a clean-shaven Howard is there again.
16:45: Arsenal repeat the trick with Giroud played through once again, but Howard is out quickly, making himself big and blocking the shot. During the intricate build up, Gareth Barry steamrolled though Ozil. It wasn't his first of the afternoon and the midfielder is shown a yellow card.
16:43: Arteta plays the ball to Wilshere who hits a wonderful first time dink over the Everton defence to Giroud. The Frenchman is ruled offside however, with Howard making a smart stop just in case.
16:41: Quick reminder of that FA Cup third round draw. Undenyiably, the tie of the round is the small matter of a north London derby between Arsenal and Tottenham. The rest are:
Manchester United v Swansea, Liverpool v Oldham/Mansfield, Derby v Chelsea, Blackburn v Man City, Yeovil v Leyton Orient, Nottingham Forest v West Ham, Bristol City v Watford, Southend v Millwall, West Brom v Crystal Palace, Kidderminster v Peterborough, Doncaster v Stevenage, Stoke v Leicester, Southampton v Burnley, Newcastle v Cardiff, Rochdale v Leeds, Wigan v MK Dons, Charlton v Wrexham or Oxford, Port Vale v Plymouth, Norwich v Fulham, Aston Villa v Sheffield United, Macclesfield v Sheffield Wednesday, Sunderland v Carlisle, Bolton v Blackpool, Everton v QPR, Brighton v Reading, Birmingham v Bristol Rovers or Crawley , Grimsby v Huddersfield , Ipswich v Preston, Bournemouth v Fleetwood or Burton
16:39: And in breaking news that should have been mentioned earlier, Tim Howard has shaved. He looks strange.
16:36: Coleman is picked out wonderfully by Mirallas and the Ireland international sprints to the byline to play the ball back towards the penalty spot, but Koscielny just about nicks the ball away.
16:32: About ten minutes of the first half remaining here at the Emirates and Everton again carve out an opportunity. This time it's Lukaku who plays a wonderful ball across the face of the goal but none of his teammates are positioned to tap the ball home. The visitors are enjoying lots of possession just outside of the Gunners' box but just can't find that final pass or make that telling run to make this all count. Yet.
16:25: Meanwhile at the Emirates, there is still a football match going on. Kieran Gibbs is centre meters away from opening the scoring afterm Santi Cazorla plays a wonderful ball across the box. The full back can't quite reach it, however.
16:22: Arsenal have drawn Totteham in the third round of the FA Cup, while Manchester United host Swansea City. Chelsea will visit Derby County while Liverpool will welcome either Oldham or Mansfield. Manchester City will travel to Ewood Park to take on Championship outfit Blackburn.
16:16: And here they come! The Third round draw of the FA Cup.
Barnsley v Hartlepool or Coventry
Yeovil v Leyton Orient
Liverpool v Oldham or Mansfield
Nottingham Forest v West Ham
Bristol City v Watford
Southend v Millwall
West Brom v Crystal Palace
Kidderminster v Peterborough
Doncaster v Stevenage
Stoke v Leicester
Southampton v Burnley
Newcastle v Cardiff
Rochdale v Leeds
Wigan v MK Dons
Charlton v Wrexham or Oxford
Manchester United v Swansea
Port Vale v Plymouth
Norwich v Fulham
Aston Villa v Sheffield United
Macclesfield v Sheffield Wednesday
Sunderland v Carlisle
Bolton v Blackpool
Blackburn v Manchester City
Everton v QPR
Brighton v Reading
Arsenal v Tottenham
Birmingham v Bristol Rovers or Crawley
Grimsby v Huddersfield
Ipswich v Preston
Derby v Chelsea
Bournemouth v Fleetwood or Burton
All games to be played on the weekend of the fourth and fifth January.
16:14: In a bizarre set of circumstances, that never, ever happen, the draw for the third round of the FA Cup has been delayed. It's expected to start in a few minutes and we'll give you all the details as they come.
16:11: Everton are looking incredibly comfortable here as they take the game to Arsenal. Bryan Oviedo has found space down the left flank on a number of occasions so far, but hasn't been able to find the right ball.
16:08: Early pressure from Everton, but it's nothing that's majorly troubling Mertesacker and Koscielny, although Lukaku looks intent on changing that. The Belgian's power and instinctive runs are showing signs of stretching the Gunners' back line.
16:06: Another dangerous move from Everton as Lukaku picks Mirallas out on the right. The Belgian drives the ball across goal but it's just out of the reach for his countryman. Moments later Arsenal have a crack at this counter attacking business themselves but after a nice one two with Giroud Ozil has crept offside.
16:05: The full back repeats his trick but this time cuts into the box and attempts to dance his way past Arsenal defenders. After losing posession, he picks the ball up again but Koscielny manages to snuff out the danger. Good start from the visitors.
16:03: Everton get an early break as Seamus Coleman gallops down the right, but the Irishman is unable to pick out one of his teammates.
16:01: And we are ogff underway in north London, both sides playing in their home strips.
16:00: As has been the standard this weekend, a moment of applause it held at the Emirates in memory of Nelson Mandela.
15:58: There are 64 balls in the draw representing 69 teams in today's draw. Bristol Rovers v Crawley Town, Oldham Athletic v Mansfield Town, Hartlepool United v Coventry City and Fleetwood Town v Burton Albion are all going to replays while Wrexham host Oxford tomorrow in the final game of the second round.
15:56: We are minutes away from kick off the Emirates and minutes away from the FA Cup third round draw, with the father and soon combination of Teddy and Charlie Sheringham are responsible for doling the balls out.
15:50: Don't forget, we will be also bringing you the draw for the third round of the FA Cup draw just after 16:00 (GMT).
15:47: One slight concern for Roberto Martinez; Everton have conceded more goals against Arsenal than any other side in the history of the Premier League. But as they showed on Wednesday night, old records and stats can mean nothing on the day.
15:44: Arsenal have conceded just one goal in their last six league games; Robin van Persie's headed effort at Old Trafford in November. Everton's record in that time isn't too bad either, they've kept five clean sheets in their last six games, the only blot in their copy coming when they shipped three in a thrilling Merseyside derby with Liverpool.
15:40: Just to confirm some team news, Everton are unchanged after beating Manchester United last week while Olivier Giroud replaces Nicklas Bendtner at the front of the Gunners' attack.
15:35: Elsewhere in the Premier League, Fulham have won their first game under Rene Meulensteen after beating Aston Villa 2-0 at Craven Cottage. Goals from Steve Sidwell and Dimitar Berbatov helped the strugglers climb to 18th with a much improved performance.
LINE UPS:
Arsenal: Szczesny, Jenkinson, Koscielny, Mertesacker, Gibbs, Arteta, Wilshere, Ramsey, Ozil, Cazorla, Giroud
Subs: Vermaelen, Rosicky, Walcott, Monreal, Flamini, Fabianski, Bendtner
Everton: Howard, Coleman, Oviedo, Distin, Jagielka, Barry, Barkley, Pienaar, McCarthy, Mirallas, Lukaku
Subs: Robles, Heitinga, Jelavic, Deulofeu, Naismith, Osman, Stones
15:10: Everton's historic win at Old Trafford saw them creep into the top five and should they cause another upset in north London this afternoon they can leapfrog Manchester City into fourth. Martinez's side have tasted defeat just once this season, having beaten Chelsea and claimed a point from clashes with Liverpool and Tottenham.
15:07: Everton have no fresh injury concerns with Bryan Oviedo to continue at left back in the absence of Leighton Baines.
15:05: Jack Wilshere, Kieran Gibbs and Olivier Giroud are expected to return to the starting XI following their mid-week rests, but both Bacary Sagna and Mathieu Flamini are doubts after picking up knocks in that 2-0 win over Hull City.
15:03: Arsene Wenger's side can move seven points clear at the summit of the Premier League should they pick up all three points this afternoon after Chelsea's last minute defeat to Stoke. The idea that Arsenal are incapable of winning the league is becoming more feeble as the weeks go by, but argument that the Gunners have yet to play the big guns - bar their defeat at Manchester United - will be addressed in the coming weeks. Games against Manchester City and Chelsea await in the next few weeks, but an examination of their title credentials against the Toffees will be another step in silencing their critics.
15:00: Good afternoon and welcome to IB Times UK's LIVE minute by minute coverage of this afternoon's Premier League clash between Arsenal and Everton. The Gunners' enjoyed a brilliant afternoon on Saturday without kicking a ball as Chelsea, Manchester City and Manchester United, but is Roberto Martinez's side ready to claim another scalp having beaten the champions for the first time in 20 years at Old Trafford last week?