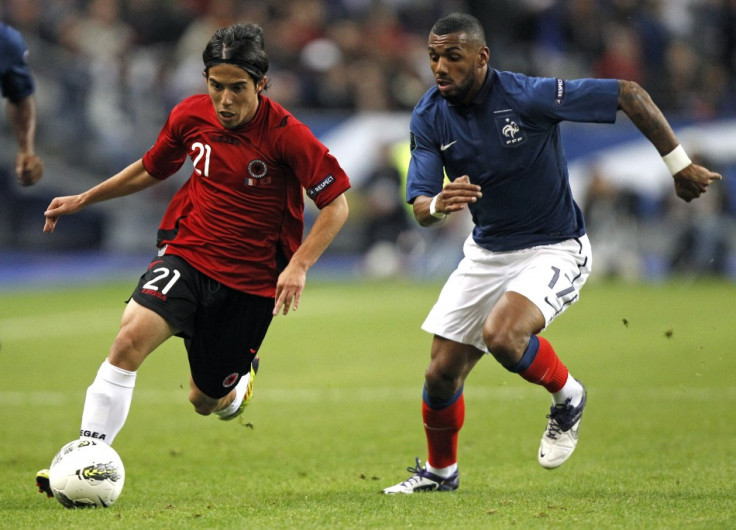 Yann M'Vila is fielding interest from Manchester City, according to the club's football development executive Patrick Vieira, with the defensive midfielder at the top of numerous clubs' January transfer wishlists.
M'Vila has starred for Rennes since the 21-year-old moved through the club's youth ranks in 2009, and has been the subject of a great deal of interest from English clubs as well as sides in France and Spain.
Arsenal were linked with M'Vila in particular on the last deadline day, and while Arsene Wenger admitted to interest in the France international, a bid couldn't be finalised in time before the transfer window closed.
And now, Arsenal look to have an even bigger challenge in securing the star's signature, with Vieira revealing that City are chasing M'Vila as well.
But Vieira admitted that he knew that other clubs would be interested in M'Vila, telling Canal Plus: "I am sure that City are not the only club interested in him."
Recently, M'Vila said that next summer he would consider a move away from Rennes if it was to the right club, admitting that part of the reason he had chosen to stay with the French outfit was to get game time in preparation for the 2012 Euro tournament.
And after M'Vila's teammate Kader Mangane said last week that he may make the move to Arsenal or Real Madrid, the Gunners looked to be English favourites at least to garner a deal the second time around.
City are able to offer much higher wages though, and the interest from the Citizens will be tough for Arsenal to compete with. Arsene Wenger lost out to the club over summer in his hopes to keep stars Samir Nasri and Gael Clichy, with Nasri in particular admitting that the allure of trophies meant that he couldn't resist the temptation to move away from the Emirates.
Arsenal will no doubt be hoping to bring on more defenders in January, with the squad currently struggling in their backline. Summer signings Per Mertesacker and Andre Santos have taken time to adapt to the English style of football, and Thomas Vermaelen has suffered injury problems that has left the Gunners without depth as they attempted to recover from the loss of Nasri and Cesc Fabregas.
£25-million-rated M'Vila would be a great coup for the north London club, and give Wenger at least a small victory over City, but the stopper's decision over which club to move to will surely depend on whether Arsenal can recover from their poor start to the season and challenge for a Champions League spot.