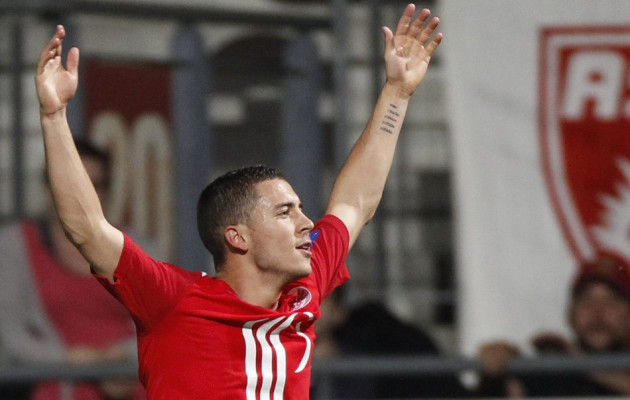 Arsenal midfielder Samir Nasri has dismissed comments attributed to him on Facebook suggesting he is set to leave the north London side, but refused to rule out speculation linking him to Manchester City.
Nasri, 24, used his Twitter account on Wednesday morning to deny earlier comments posted on a Facebook account under his name that said his Arsenal exit was imminent and he would leave with "bitterness and anger in my heart".
The French international, heavily linked with a £23m move to City, also revealed he doesn't even own a Facebook account.
A message claiming to be from Nasri said of the transfer: 'It's nearly done,'
"I will leave with bitterness and anger in my heart. I am proud for having played with the Gunners.
"I have been very disappointed by the supporters last weekend. I am still an Arsenal player but I will leave very soon."
But Nasri used Twitter this morning to say: "Just to make things clear I don't have a facebook so I never said I was leaving with bitterness the guy who said that use a fake account" [sic].
Nevertheless, Nasri is expected to complete his transfer to City before the weekend, after manager Arsene Wenger admitted the Gunners were not in a strong position to retain his services.
"Ideally I want Samir Nasri to stay, but as much as we were in a strong position on the contract side with Cesc, the situation is a bit different," he said on Monday.
Nasri was suspended for last night's 1-0 victory over Udinese, as Wenger side-stepped the issue of wether he should play and be cup-tied - thus reducing any potential transfer fee.
However, the 24-year-old appears likely to join the long list of players to have left the Emirates this summer, with City expected to formalise their interest in the next few days.
Cesc Fabregas joined Barcelona for £35m on Monday, while Gael Clichy has already moved to Eastlands.
On Tuesday, Emmanuel Eboue joined Turkish side Galatasary for £3m and striker Carlos Vela headed to Real Sociedad on a season-long loan.
Wenger is keen to identify a replacement for Nasri and reports in France suggest the Frenchman has stepped up his pursuit of Lille midfielder Eden Hazard.
The Ligue 1 side are reluctant to lose the Belgium international and L'Equipe suggests club president Michel Seydoux has placed a €30million price tag on the player.
"I am not sure he wants to leave anyway. He knows his status here and at a large club there is much more uncertainty," Seydoux said.
Meanwhile, Wenger remains interested in Wolves striker Kevin Doyle as a replacement for the departing Nicklas Bendtner.
Doyle was linked with Arsenal earlier this summer but although Bendtner has held talks with Sunderland, Stoke and Newcastle, none have yet matched Wenger's £11m valuation.