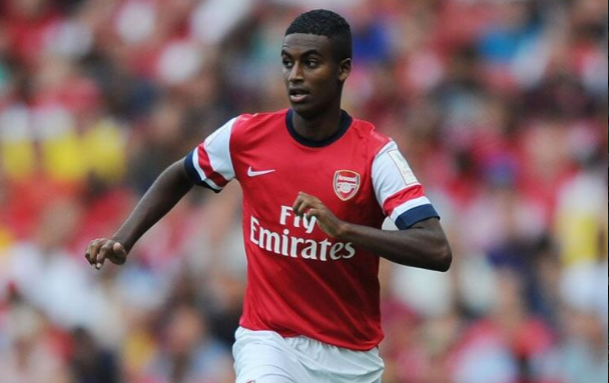 Having only arrived at Arsenal in January of this year it has been a rollercoaster few months for Gedion Zelalem. Spotted by Arsenal scout and former player Danny Karbassiyoon playing for Olney Rangers in the United States, the highly rated central midfielder has gone on to make his debut for the U21 side, before travelling with the first team squad on the tour of Asia.
Still just 16 years old, Zelalem showed glimpses of his undeniable talent during the pre-season tour and was once again amongst the first team squad last weekend for the Emirates Cup.
The creative midfielder has had a cosmopolitan upbringing; born in Ethiopia, he is of German descent but spent most of his formative years in America. Now he finds himself living near Arsenal's London Colney training ground as he looks to become the latest academy graduate to excel under Arsene Wenger.
Already capped eight times by Germany at Under-16 level, Zelalem has high hopes for the new season after having his first taste of senior action on the tour of Asia.
Quizzed on what he learned while on tour in Vietnam, Indonesia and Japan, Zalelem told the official Arsenal programme: "It reminds us that we need to keep working hard if we want to be part of the first team squad. We don't get carried away when we see all the fans; we know what we have to do if we want to reach that level of the first team."
The young midfielder has already garnered a reputation as one of the best prospects in the Arsenal academy and last season was able to force his way into the U21 set-up, where he trained with a number of established stars.
"The level from training with the reserves is really high, but once you get into the flow you get used to it pretty quickly and just play your own football," explains the midfielder who is yet to sign his first professional contract.
"In my first session with the first team at London Colney I was a bit nervous beforehand, but Neil Banfield [reserve team manager] spoke to me and told me to just play my normal game and the football will do the work for me. It's good to be part of the group. As a German speaker I've obviously had a lot of banter with the German players like Per [Mertesacker] and Lukas [Podolski] - it's been a lot of fun so far."
Zelalem has already drawn comparisons to another academy graduate who went on to achieve great things at Arsenal in Cesc Fabregas. Despite this pressure placed on his shoulders, the teenager remains grounded.
"I don't really listen to any hype or anything like that. I just listen to my parents and people around me who love me. They keep me grounded so it's fine," he adds.
But what are his goals now that he has had a taste of firs team action?
"I have really high expectations for myself so hopefully I might be able to make a few appearances this season. But I'm still very young so I have a lot of work to do. I will keep working hard and stay positive all the time."
Arsenal will have high hopes for the German youth international and it seems one of the main reasons they were able to sign Zelalem was because of their tradition of giving young players a chance.
Asked why he joined Arsenal, Zelalem declared: "The style of Arsenal's play was very important for me joining, first of all. But there were a lot of reasons I joined: the fans are great, the stadium is great and also lots of legendary players have come through the ranks here which is a big inspiration for me."
Should Zelalem go on to replicate the feats of Fabregas then it seems Arsenal will have unearthed another gem.