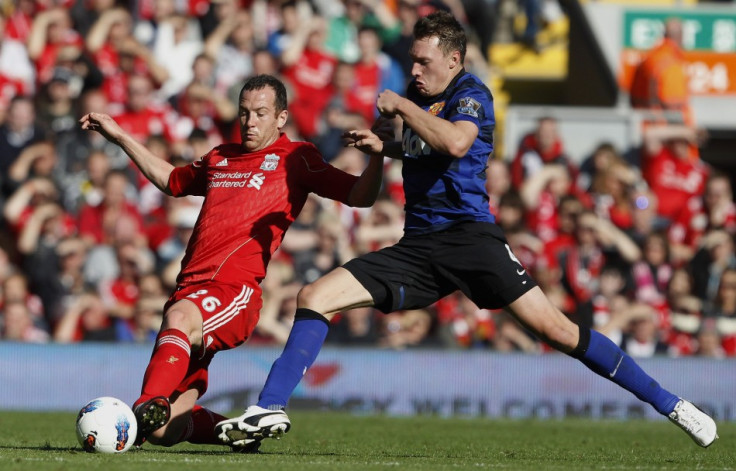 Arsenal legend Ian Wright believes Manchester United defender Phil Jones should almost certainly be included in Fabio Capello's England squad for next summer's European Championships.
The former England and Arsenal striker believes the aforementioned Manchester United star is not a superb prospect and has the added dimension being able to play in a variety of roles.
Jones made his England debut against Montenegro at right earlier in the season and Capello deployed the prodigiously gifted 19-year-old in a central midfield role against the Spanish at Wembley, and the aforementioned Arsenal hero believes Jones' versatility could prove crucial in Poland and Ukraine in the summer.
"I have been especially impressed by Phil Jones, who we all know was played out of position in midfield, but gave a really mature performance." Wright told The Sun.
"I'd say Jones is a cert to make the squad for the Euros.
"It would be like taking three players, as he can also slot in at right-back, as well as his favoured role in central defence."
Wright has been enthused by England's recent performances but believes there must be a heavy sense of realism ahead of EURO 2012, claiming one victory over the world and European champions does not mean Capello's side are suddenly the favourites to triumph in June.
"I really hope we don't start thinking we're ready to mix it with the best on a regular basis all of a sudden." Wright added. "For the fact of the matter is we are not. And having seen how quickly expectations can rocket to totally unrealistic proportions, we must realise it.
"I'm not trying to pour cold water on what was, regardless of the context, a fantastic result.
"But we have to temper it with a hefty dose of realism - and accept this was a small step on the road to where we ultimately want to be."
England face Sweden at Wembley this evening without perennial absentee Jack Wilshere, but although an ankle has deprived Arsenal of their mercurial playmaker for the season thus far, Wright believes it could benefit club and country later in the season.
Wright said: "Jack's own injuries could actually turn into a blessing for Arsenal and England.
"If his rehab is done right, he could be coming back fit and fresh at the business end of the season - and be one of the freshest men on the plane for the finals."