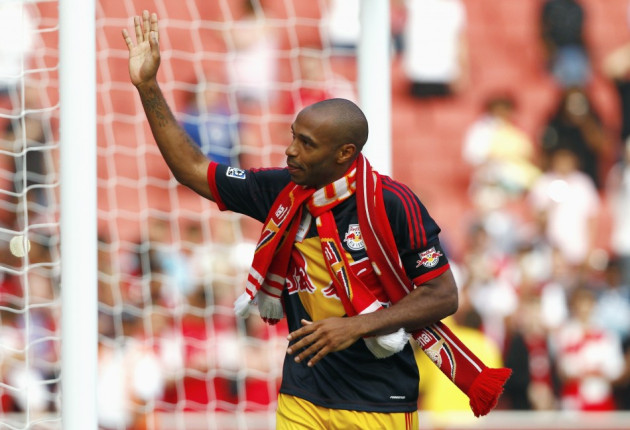 Nigel Winterburn believes Thierry Henry is a great signing for Arsenal and believes the former captain could propel the club into the top four.
Henry has agreed to re-join the Gunners on a two-month loan deal from New York Red Bulls, club manager Arsene Wenger confirmed Thursday.
The erstwhile Arsenal skipper left the club for Barcelona in 2007 but has been training at London Colney following the end of the Major League Soccer season.
Wenger was moved to re-sign Arsenal's record goal scorer as cover for Gervinho and Marouane Chamakh while the duo are away on Africa Cup of Nations duty.
And former Arsenal defender Winterburn believes the move benefits both parties and expects the Frenchman to excel during his brief sojourn in north London.
"I hope everything works out as everyone is expecting," Winterburn told Sky Sports. "It's terrific news for supporters of Arsenal. Thierry Henry is a winner.
"If he can make that rub off on players around him it can only be good for them. I hope everything fits into place."
Henry could play in seven Premier League games, including matches against Manchester United and Tottenham, as well as the first leg of Arsenal's Champions League last-16 clash with AC Milan and the FA Cup.
"If it works out well it will be a terrific move by Arsene Wenger, but on the flipside if it doesn't work out well people will say 'why didn't he go out and get a world-class current striker?'" Winterburn added.
"Will he play in that central role and maybe Robin van Persie move out to the left? Van Persie is the top man at Arsenal at this time. There are a lot of questions to answer but Arsenal would be delighted to have him back for this short time."