Arsenal and Liverpool £10m Defender Target Open To Move
Ashley Williams says if an offer comes in he will consider it, but the defender has been careful not to be disrespectful towards Swansea
Ashley Williams says he would be open to discussing a move to another club, with the Liverpool and Arsenal defender target having enjoyed another successful season at Swansea.
Williams has been touted as a possibility for a move to one of the top sides, either following Brendan Rodgers to Liverpool as an eventual replacement for Jamie Carragher, or to add much-needed depth to Arsene Wenger's defensive line-up.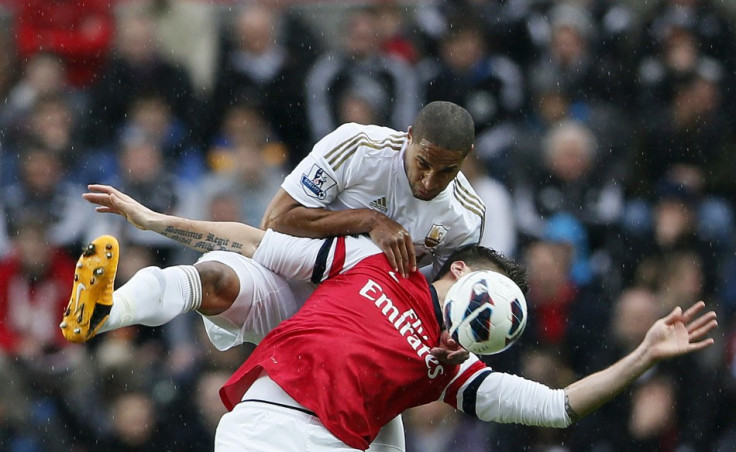 Both clubs have ambitions of challenging for the title in the coming seasons, though Arsenal can offer immediate Champions League football thanks to their win over Newcastle at the weekend. But Williams insists he is concentrating on enjoying his holiday as the season came to a close at the weekend.
"I play my football for Swansea City and now I'm just going away and looking forward to a holiday," he said, according to the Evening Standard. "I've said before, I'll take it as a compliment, it means you're doing your job well. I've done that this time, I haven't looked too far into it.
"The season's been such that since the cup final we've had so much work to do that I haven't really thought about it."
He did admit though that if an offer came up from the likes of Arsenal of Liverpool, he would be open to discussing it.
"If somebody comes in and the club want to do that you have to sit down with the chairman and talk about it," he explained.
"I can't really think about that at the moment, I play for Swansea City and I would never be disrespectful to the club, the fans and my team-mates. That's it really, I can't say any more than that."
The 28 year old may have sought to be respectful to Swansea in his comments, but there is no doubt that both Liverpool and Arsenal will continue to be linked with the star as both sides aim to beef up their defences for next season.
And with a market worth of £10 million, Williams would certainly be affordable for both Premier League sides, with both Rodgers and Wenger insisting they have money to spend in this transfer window.
© Copyright IBTimes 2023. All rights reserved.