Lukas Podolski is confident that Arsenal can challenge for the Premier League title if they maintain the form that saw them claim an impressive 2-0 win against Liverpool on Sunday.
The Germany international opened his account for the Gunners at Anfield after his £11million move from FC Cologne this summer, before fellow new signing Santi Cazorla also fired his first goal for the club.
The pair combined well throughout the game and there is a growing belief that these players, along with Olivier Giroud, can go some way to dealing with the loss of striker Robin van Persie.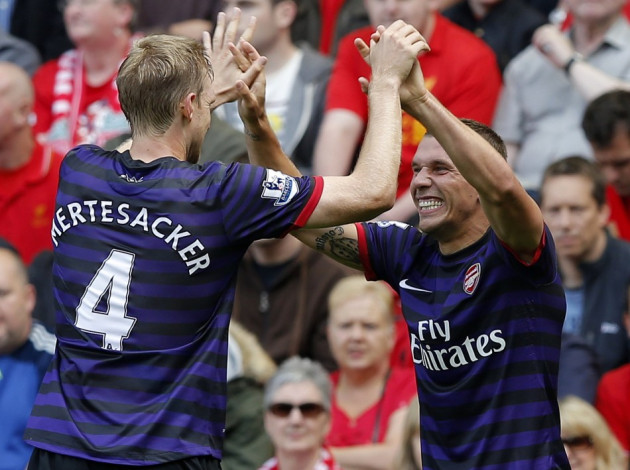 With Abou Diaby making a huge impact in the centre of midfield and Jack WIlshere set to return from injury within a month, Podolski firmly believes the club can challenge for the title.
"The Premier League is very hard to win," Podolski told the Daily Mirror. "It is not like Spain, where only Real Madrid and Barcelona fight for La Liga.
"In the Premier League, you have five or six teams who want the title. We are one of those and must fight for it.
"We have 35 matches more and must play in all of them like we did at Liverpool."
Arsenal have not lifted a trophy in eight years, but Podolski believes that the current side, with a combination of passing football and tough tackling, can end that barren run.
"I've had a lot of managers, that's true, I think 10 of them. But Arsene Wenger is a great coach, one of the best in the world.
"Before I came, I spoke to him about the style of the club, the football he wants us to play. Our first goal showed what I mean - good passing, running, keeping the ball and then scoring the goal.
"This style of Arsenal is my style. I like this. We are a team that likes to pass the ball, playing one or two touches," added Podolski.
"But to win in the Premier League you must also be prepared to fight and to run. We did this well. I have been asked to play on the left, but you can see that I am free to leave that ­position and play inside.
"I don't just have to play wide, I can go in the middle to link up with Abou or Santi. With Santi, in training, I've loved the way it has gone. All the time we work on this, one and two touches.
"You could see that for our goals at Liverpool. He passed to me for the first one, and then I gave the assist to him for the second. But we have only played three matches and must keep on improving."
However, Podolski is aware that the two goalless draws against Sunderland and Stoke were not good enough for Arsenal, and that they must consistently produce the type of football they produced at Anfield.
"From the first two matches we only picked up one point each game, which was not good enough. But if we play like we did at Liverpool, then we will fight for the title."