Arsene Wenger has claimed that it is "nearly impossible" for top clubs to do business in the January transfer window after he revealed that Arsenal were agonisingly close to landing a player other than new signing Nacho Monreal on deadline day.
The Gunners did manage to capture the Malaga left-back in a £8.3million deal but it seems Wenger was close to bringing another player to the club, though he refused to mention who the player may have been.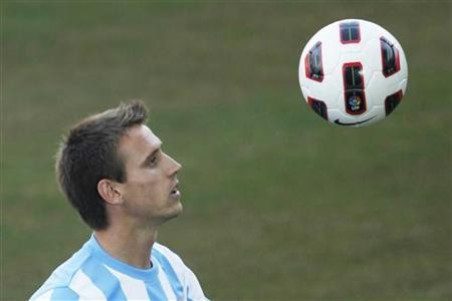 "We were close to one more signing," said Wenger. "It didn't happen because of the desire of the club not to sell. It was not a money problem. Football looks to be an exception in our society [when it comes to spending]. I always say it cannot last much longer, but I am always proved wrong on that."
Arsenal had been strongly linked with Barcelona striker David Villa but it was another Spain international that eventually made the move to the Emirates.
With Kieran Gibbs picking up an injury against Liverpool it was assumed that Monreal had been somewhat of a panic buy but Wenger made it clear that he had been on Arsenal's radar for some time.
"Our scouts have followed his progress for a while," added Wenger. "We had a blow with Gibbs' injury as he may now be out for four-six weeks, so we had to make a quick decision and that explains our buy.
"We bought him as a left back, but he can also play as a left sided midfielder. He can adapt to our style of play quickly. He has a good left foot, very mobile, good combination play. That is vital to how we play. He is available for the game against Stoke [on Saturday]."
Wenger was also quizzed on David Beckham's move to French giants Paris Saint-Germain as the former England captain had been training at Arsenal's London Colney base for the last few days.
"One training session here and he signs for PSG," joked Wenger. "PSG look to extend their reputation and Beckham is a good part of that. Beckham is a world brand, so the eyes will be on Beckham and the French league while he is there. He has to go through a physical preparation and will take a few weeks to be match fit."