Ray Wilkins believes that Tom Cleverley and Jack Wilshere can learn a lot from Chelsea legend Frank Lampard, Ray Wilkins has claimed, with the Manchester United and Arsenal starlets shining for both club and country since their senior careers began.
Both Cleverley and Wilshere have had injury setbacks, the latter more so than the former, and as they both look to the season ahead it seems the duo will be handed big chances to step up for their respective clubs.
While United and Arsenal continue to be in the mix for Champions League and domestic trophies, Wilkins believes that both Cleverley and Wilshere have the ability to lead the way for England's new generation.
"I think Tom and Jack can be the mainstay of the England side for many years to come," Wilkins told M.E.N. Sport. "I think eventually England will evolve into a team with three midfielders and then someone can play the holding role and Tom and Jack will be the slightly wider midfielders.
"Too many of England's regulars are only subs for their clubs these days and I think it is great that we have two young midfielders who are establishing themselves at two very high-profile, prominent clubs.
"I think that is very important for England. These two are standing up to the pressures of playing front of 75,000 or 60,000 people each week. They are not freezing on the biggest of stages.
"Both have great characters and personality on the pitch. They have those commodities and confidence in abundance."
And Wilkins believes that as well as building experience for United and Arsenal, Cleverley and Wilshere can take lessons from Lampard, who has become a stalwart for both Chelsea and England throughout the last 13 years.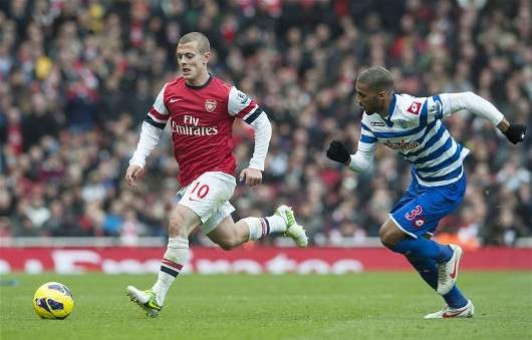 "Both players will need to add goals to their game. It is imperative in the modern game," he explained. "Tom and Jack need to take a lesson from Frank. Frank is an excellent goalscorer from midfield. He finishes like a forward because he has the same calmness and assurance.
"They need to realise sometimes that they have more time than they think and not rush chances. If they study Frank they will learn.
"But I have no doubt that both of them will add goalscoring to their game and what a package they will be then."
While Wilshere is now back in the squad for Arsenal after spending more than a season on the sidelines with injury, Cleverley is taking this season as his first real chance to prove to Sir Alex Ferguson that he is capable of being a regular starter in the United squad.