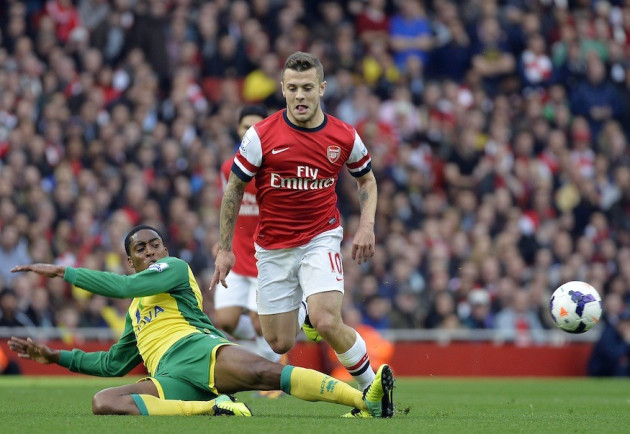 Mesut Ozil has lavished praise on Jack Wilshere after the Arsenal youngster looked back to his best in the 4-1 win over Norwich at the weekend.
Wilshere scored the opening goal after a wonderful move involving Santi Cazorla and Olivier Giroud, that has been lauded by manager Arsene Wenger as one of the best he has witnessed.
Some have suggested it as an early contender for goal of the season and while the 21 year old continues to improve after recovering from lengthy injury spells, Ozil says the goal is one of many examples as to why Arsenal are deserving of their place at the top of the table.
"I've got to praise the three players involved for the first goal," he told Arsenal Player. "It was real 'tiki taka' - almost like they were playing PlayStation! It was an unbelievable goal.
"I know that I can still improve but I'm happy with my display and the performance of the team. Aaron Ramsey showed that any player who comes on will do his best for the team and will get involved in tackles and attacks immediately.
"That's why we've been in such good form. I'm really proud of the team. We're taking what the manager wants us to take into games and are making strides. Now we've got another three points and can be pleased with that."
Victory over Norwich never looked in any doubt and theGunners' start to the season has left fans daring to dream of title glory once more.
Ozil has revealed that this feeling is echoed in the changing rooms, insisting that the side are aware of just how much potential they have this season for success.
"[Confidence] is really high," he explained. "We know what we can do but we won't get carried away. It's still very early but we know how much potential we have in the team.
"We just enjoy playing and it shows on the pitch. We fight for each other and we are always there for one another. That's why we've been so successful."