Arsenal midfielder Mikel Arteta hopes that the powers that be will sanction significant changes in the summer as he believes it is unacceptable for the club to be 24 points behind league leaders Manchester United.
The Gunners have endured a difficult campaign and with 10 games remaining they are still battling for a place in the top four. They are five points behind fourth placed Chelsea and face missing out on Champions League football for the first time in 16 years.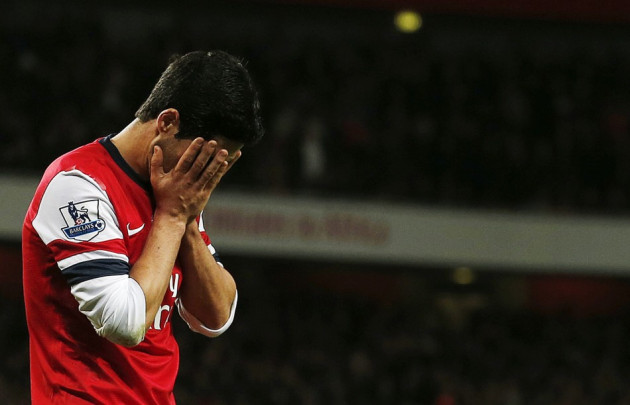 With Bayern Munich the overwhelming favourites to advance, at the expense of Arsenal, in the Champions League it seems it will be another season without any silverware.
Arteta believes that the board will have to make some changes and states that the only answer is to bring better players to the club.
"With 10 games to go and to be 24 points behind [the leaders], it's an impossible catch and that, for me, is unacceptable," Arteta told the Daily Mail.
"We can't be in that position because we have the best basic structure I've ever seen at a football club. Great philosophy, good players, we've got financial backing to do whatever we want, unbelievable crowds for the stadium. Let's go for it!
"Staying in the Champions League is massive. If we don't get in those spots it makes everything much more difficult. To any team with top players, you have to ask what's going to happen. There's only one answer: we want to improve the team.
"We want to be better and next season we want to get more points, which means we will have won more games. I think the board know that and, hopefully, this summer we'll do something about it."
Before Arsenal can improve their squad they face the difficult task of overhauling a two goal deficit against Bayern Munich. Arteta knows how tricky this will be as he believes they are the best side the Gunners have come up against this season.
"Bayern were very good in the first leg and it will be even harder away from home. For me, they are the best team we have played this season," added Arteta.
"They are strong physically, have some talented players who can unlock the door at any moment and they are solid and organised."
While it seems a near impossible chance to advance to the quarter-finals, Arsenal will hope that over the course of the next 10 games they can overhaul their London rivals to make sure of a place in next seasons Champions League.
They still have one game in hand over Tottenham but are some seven points behind their fellow north London club after losing 2-1 at White Hart lane.