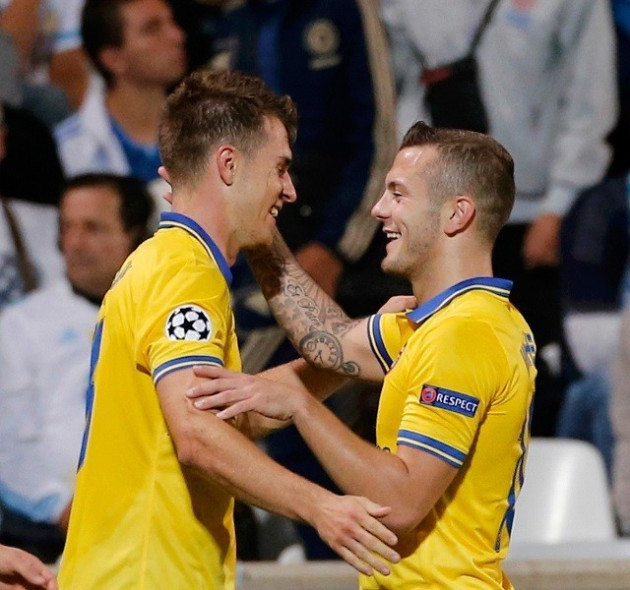 Arsenal midfielder Aaron Ramsey believes that the team needs to learn from their mistake for the second goal which cost them a point against Borussia Dortmund in the Champions League in midweek.
The Gunners suffered their first loss in the Champions League after a 2-1 defeat at the hands of Dortmund at the Emirates after a late volley from Robert Lewandowski saw them go under. It was a case of slack defending on the part of the Gunners, who had thrown everyone forward and the Bundesliga outfit hit them on the counter to secure a crucial three points in what is expected to be a tough three way battle for the top two spots.
Ramsey was the guilty party for the Gunners conceding the first goal, with the Welshman losing possession after trying to dribble his way out of the back and the ball was neatly slotted in by Henrikh Mkhitaryan. Arsenal came back to level terms through Olivier Giroud who scored the equaliser just before the halfway mark. The 22-year-old holds himself responsible for the first goal but insists that the Gunners did enough to take a point, having had the ball cleared off the line from Tomas Rosicky and hitting the bar through Santi Cazorla.
"A draw would have been a fair result after the way we played in the second half. I felt like we were in control of the game but then we switched off for 30 seconds, we were in their box and 30 seconds later the ball is in the back of our net. I was disappointed as well with the way they scored their first goal, I got caught on the ball and that was disappointing. We were a bit slow to start but I thought after about 25 minutes we got into the game, we got our goal and then we took that into the second half," he told www.arsenal.com.
"We were in control of the game, we didn't look like we were going to concede, but then we did. That's what happens [when you switch off].
"We showed good character getting back into game... and we created a few chances in the second half and hit the bar. On another night we may have taken the lead but we have to learn from the way we defended for the second goal," he concluded.