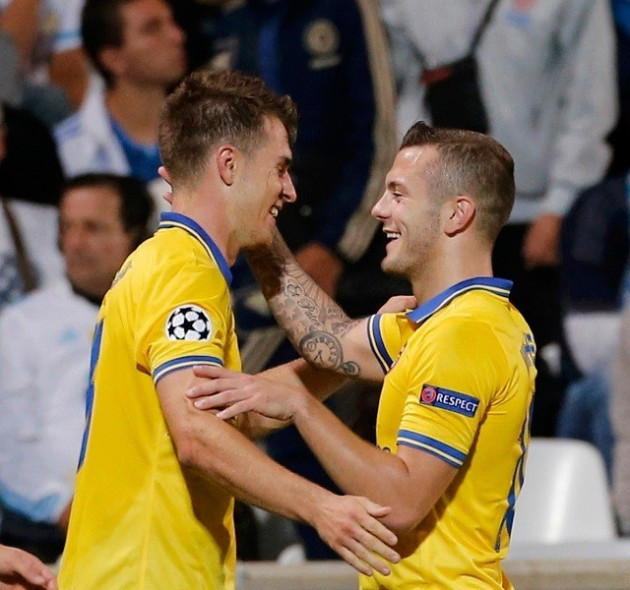 Arsenal's best player this season, Aaron Ramsey, believes that the Gunners should go to Old Trafford with a desire to win.
The Gunners have failed to win at Old Trafford over the last few seasons, with their last win being a 1-0 victory way back in 2006. Since then, the Gunners have failed to go toe to toe with Sir Alex Ferguson's men and were handed an ignominious 8-2 loss at the home of the Champion in 2011, something which still gnaws at the heart of Arsenal fans.
The bad blood between the sides has grown by leaps and bounds following the transfer of Robin van Persie in 2012, who single-handedly won them the Premier League title last season.
This is the Gunners' best chance to put the record straight and go 11 points clear of the Red Devils and inscribe their name among pundits as serious title contenders.
The north London club will come into the game on the back of a 1-0 win over last year's Champions League finalists Borussia Dortmund in Germany, something which will give them belief and go a long way in exorcising the ghosts of their beleaguered past. Ramsey, who scored the winning goal, is the exponent of a rejuvenated Arsenal side, who are living their dream in the Premier League.
"It is going to be another massive game - this was always going to be a big week for us and we couldn't have got off to a better start. Hopefully now we can go to Old Trafford and finish the job off. It would be massive [to beat United]. We are feeling really confident at the moment and we're in good form in the league, so why not go there and win?" he told www.arsenal.com.
"They have had a bit of a rough start but they have overcome that now I think. They've had a few good results in the league and will be getting their confidence back up, but we are really confident ourselves. Our away record has been really good so hopefully we can continue building on that," he concluded.