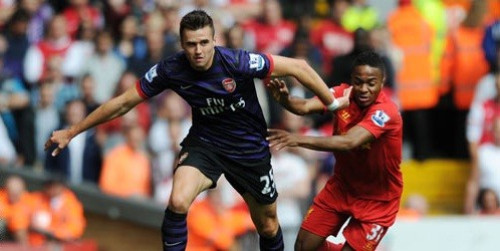 Arsene Wenger feels wing back Carl Jenkinson is gradually developing into a key member of the Gunners' defence.
The 20 year old, who joined the Gunners from Charlton Athletic last summer, has started all Premier League and Champions League games for the club so far this season and has earned praise for his solid performances at the back, in the absence of veteran Bacary Sagna.
"What is interesting with Carl is that in every game he brings so much going forward and you discover aspects of his game that you didn't see before. I feel at the start he was just thinking, 'I will just defend well, do my job' and he is now a bit more relaxed and you see something else in him," the Daily Star quoted Wenger as saying.
"Carl has as well gained one year's experience compared to last season. He came from Charlton and was straight away thrown into the Champions League. You can say that from game to game now he grows because it is linked with confidence. You need first to know that you belong there. Once you know that you can express yourself and then you see that in every game there is more coming out of him," the Arsenal Web site quoted the manager.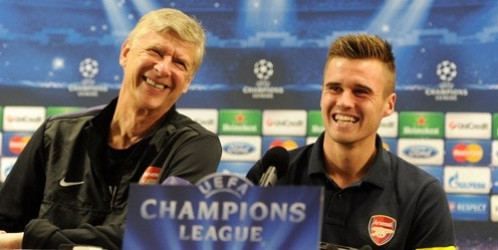 Jenkinson has also stated he feels more confident and comfortable playing in the English top flight now, after gaining regular starts for the first team.
"I feel comfortable at this level now. I think acclimatised you could say. And I just want to push on from now and hopefully keep going as I'm going," ESPN quoted the youngster as saying.
The defender also revealed he is yet to decide on his international future. Jenkinson, whose mother is from Finland, represented England at the U17 level before featuring for the Finland U19 and U21 teams. And now the player has been tipped for a call-up to Roy Hodgson's squad, ahead of the World Cup qualifiers with San Marino and Poland.
"To be honest I'm just concentrating on my club football, that's my bread and butter. Finland have contacted me. My exact words when I spoke to them were 'I'm focusing on my club football' so that's all there is to it. You can read into that how you want. I'm going to have to make a decision at some point. As I've said many times, I will cross that bridge when I come to it. Until then I'm just concentrating on each game as it comes,'' the Gunners' right back stressed.