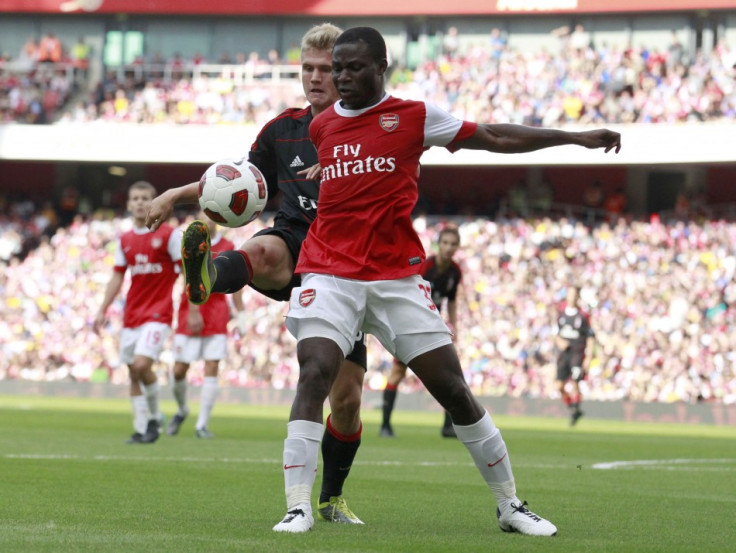 Arsenal midfielder Emmanuel Frimpong has been charged by the Football Association with improper conduct following the player's recent Twitter post.
The charge relates to comments that the 20-year-old recently posted on his official account on the social networking site on 15 July. The Ghana-based player tweeted: "If you going church today pray for me giving today a miss", to which a Tottenham Hotspur fan responded: "I prayed you break your arms and legs." Frimpong then retweeted it and allegedly replied with a derogatory term.
The term the midfielder is believed to have posted has been used to identify Tottenham supporters because of the large number of Jewish fans at the club. The player shortly removed the tweet, but it sparked a debate and did not escape the FA's attention.
"The allegation is that Frimpong posted comments amounting to improper conduct and/or which brought the game into disrepute, which included a reference to ethnic origin, faith or race," read an FA statement.
Frimpong has until 4pm on 27 July to respond to the charge.
The midfielder had apologised after the incident and was fined by Arsenal but faces a further fine by the FA, if found guilty.
Gunners boss Arsene Wenger has defended Frimpong by saying that he believes the player's reaction was an emotional one made in the heat of the moment rather than a deliberate slur.
"When he apologised we dealt with it internally and fined him. We did what we had to do. You cannot forbid [tweeting] because that is a restriction of freedom of speech. The problem is when people tweet straight away and it is a little bit of an emotional reaction. You still have to master your response and try to be correct. We have to accept what will happen," the Daily Mail quoted Wenger as saying.
Soon after the FA statement, Frimpong responded to the charge stating that he was unaware that the comment was an offensive one.
"Just wanna say didn't even no the word is offensive as u hear it all the time but u live and learn from ur mistakes," he tweeted.
London 2012: Greece Expels Olympic Triple Jumper Voula Papachristou for Racist Tweets