Arsene Wenger has said he was delighted with Gervinho's performance for Arsenal against Southampton. The Ivorian winger was deployed as the main striker for the first time in a competitive match and rewarded his manager with a stellar display capped with two goals as the Gunners beat the Saints 6-1.
Wenger has a history of redefining the positions of his players, especially converting wingers and supporting strikers into lethal centre forwards - Thierry Henry and Robin van Persie being the stand-out examples. The 62-year-old revealed he has been considering the same with Gervinho, after experimenting with the switch during Arsenal's pre-season tour.
"You know we transform all the wingers into central strikers. I decided that during our tour of Asia, when I tried to play him in that position against Man City, I liked what he did and I put that in the back of my mind. He is such a great mover and he is so quick that when he wants to get ahead of the central defender, it's difficult to catch him," Goal.com quoted Wenger as saying.
On the other hand, the manager also revealed he prefers new signing Lukas Podolski on the left of his attack. The German made his Premier League debut as the centre forward against Sunderland last month but has since reverted to a wide role, similar to the one he performs for his national team, and found the back of the net against both Liverpool and Southampton.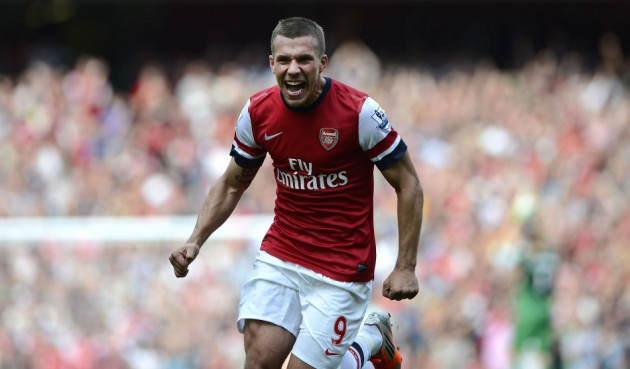 "I had a little hesitation to play him at centre forward because I had played him only once there. He gives us a balance on the left and I didn't want to destroy that because he did well at Liverpool. He is physically strong and he is a fantastic finisher, and when a team plays as well as we did, the adaptation is easy," Wenger told the Arsenal website.
Podolski scored the pick of the goals against the Saints to mark Arsenal's first home victory, curling in a free-kick.