Arsenal midfielder Jack Wilshere believes that winning a trophy this season will go a long way in reinstating the players' belief in themselves and take them forward to fight for the Premier League and the Champions League in the future.
The Gunners have gone seven seasons without a trophy and are in with a chance to win the FA Cup this season, having already relinquished their opportunity to progress to the semi-finals of the League Cup by losing to League Two side Bradford City in the quarter-finals.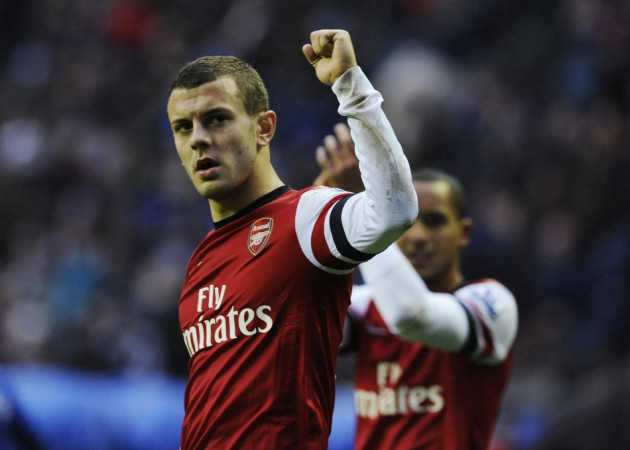 Arsenal are 18 points behind leaders Manchester United in the Premier League and also face an uphill task against Bayern Munich in the round of 16 of the Champions League. Arsene Wenger's side have also been forced into a replay in the FA Cup against Swansea City at the Emirates, after their 2-2 draw at the Liberty Stadium at the weekend.
"When you finish a career, you look back and see how many trophies you have won so we all want them and we know how much the fans do too. We're all hungry for it and maybe if we get a trophy this year it can open the way for a few more," Wilshere told the club's official website.
"We've got a good crop of young players and experienced players as well, such as [Mikel] Arteta and others. If we get a trophy this year or in the next couple of years we can really build something and be strong in the next few years," the 21-year-old added.
Arsenal face a tough month ahead with fixtures against Manchester City, Swansea, Chelsea West Ham United and Liverpool all stacked up in the next three weeks, and also the fourth round of the FA Cup, in the event that the Gunners progress.
Meanwhile, Arsenal defender Per Mertesacker insists that the current crop of players is capable of bringing an end to the Gunners' seven-year trophy drought.
The German was involved in the clubs' FA Cup match against Swansea and was at fault when Michu eased past him to put the Welsh club ahead in the second half.
"We are always looking to win something and we can achieve something with this group. We have a lively group so our thoughts are now on the next match. That's the most important thing for us, not what's going to happen in May. We have a few targets in our team that are possible this year. We won't talk about it, we'll just see what happens in the next few important weeks on the pitch," Mertesacker said.