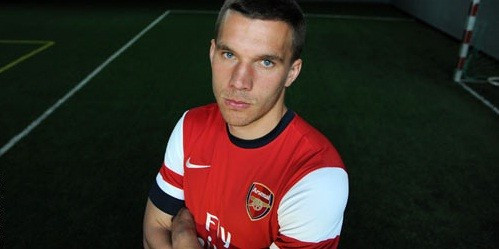 Arsenal's newest recruit, German forward Lukas Podolski, feels he can play in any position in the Gunners' forward line, when he links up with his new team mates after the move from German club FC Cologne. The German has proved versatile over the years, playing on the flanks for his national team and featuring as the centre forward and attacking midfielder for his club and expects this flexibility to help him at Arsenal.
"In Cologne, I played as a centre forward and also as a playmaker. In the national team I play wide on the left, I honestly don't mind where I play, as long as it's in a forward position. But it's always the coach who decides where you play and I will do my best wherever I play," the Daily Mirror quoted the striker as saying. The 26-year-old also said he wanted to do his best and help Arsenal win titles after returning from the summer's 2012 European Championships in Poland and Ukraine.
"I had a very good season with Cologne, I played well and as a result I'm now going to Euro 2012 in the summer with lots of confidence. After that, I will be joining up with my new team mates at Arsenal and it is my goal just to do my best and be successful there," he said.
Podolski, who managed 18 goals and seven assists from 29 Bundesliga appearances this season, said he had no doubt when choosing his new club, once he knew Arsenal were interested in him.
"Arsenal are a great club, here in Europe and all over the world. At the time the transfer negotiations started between the two clubs, the decision was made really quickly. I'm now 26, and nearly 27, so this step in my career might just be the right time to do it. I'm now looking forward to the challenge at my new club and cannot wait to start after Euro 2012," Arsenal.com quoted the German as explaining.
While Podolski has been impressed by Arsenal's reputation, the striker admitted the presence of manager Arsene Wenger was also a crucial factor behind his decision to move to London.
"This also played an important part. Arsene Wenger has been a very successful coach. He speaks several languages, and German in particular, which is very helpful. We have spoken to each other on the telephone a few times, which was very good and also which made my decision even easier," the striker stated, in another report on Arsenal's Web site.