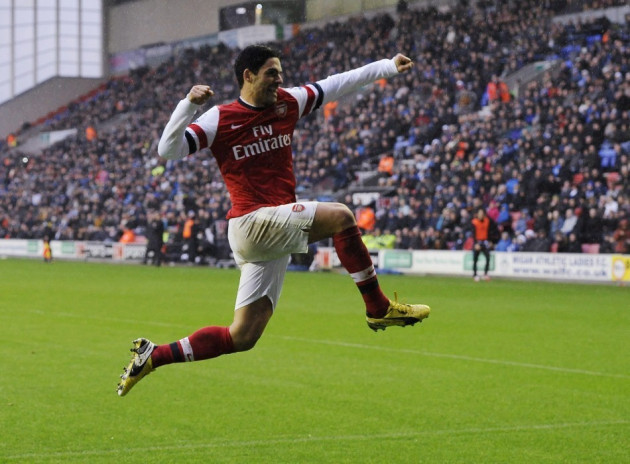 Arsenal midfielder Mikel Arteta has laughed off remarks by former Liverpool defender Alan Hansen who stated that the Gunners will do well to finish fourth this season.
The Gunners are currently top of the Premier League with 22 points and have a crucial game against Liverpool coming up at the Emirates on Saturday. Arsenal have had an easy run-in so far but their fixtures get much tougher with trips to Borussia Dortmund and Manchester United to follow. Their performance against the big teams this season has been underwhelming, having lost to Dortmund at home in the Champions league and to Chelsea in the Capital one Cup.
However, Arteta believes that it is impossible to give a clear estimation of how the teams will line up in May and that everyone has a chance to come good when the season ends. He believes that Manchester United are also very much in the run-in in spite of their sub-par performance thus far this season.
"I respect everyone's opinion, but no one has the answers to what is going to happen in 29 fixtures' time. The only thing we can do is work as hard as we can and try to find a way to be where we are in May. That's our ambition. We're enjoying the moment, enjoying the way we're playing and we want to keep going because we feel privileged to be where we are,"Arteta said in an interview with the Mirror.
"The only time you doubt yourself is if you see it in your team-mates, your manager or the crowd. That's what makes you think, 'Oh, can we do it?' But there is belief in our dressing room and if you're certain you can do it there is a big chance you will. If you don't believe then it is very hard. Things don't happen unless you really try," he added.
Arteta believes that credit should be given to the players, the board and the manager who did not panic after their 3-1 loss to Aston Villa and bought Mesut Ozil who turned their season around.
"We had so much pressure. After the Villa game we were under massive pressure. The crowd were getting into us. They weren't happy with the results, they weren't happy with the lack of signings and so the whole club was in a difficult position. To turn that around is a credit to the lads, the board and the manager because he didn't hurry to make any decision just to take the pressure off his shoulders," he concluded.