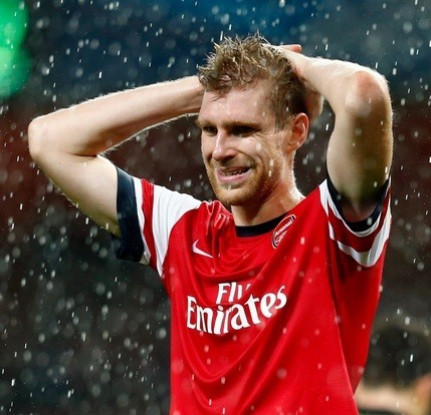 Arsenal defender Per Mertesacker believes that the Gunners need to keep up their winning run, especially against tougher opposition which is likely to define their season.
The Gunners face Liverpool at the Emirates followed by travels to Dortmund and Manchester United in the space of five days and if Arsenal are able to take full points from these fixtures, it will announce their arrival as major title contenders. Arsenal are currently at the top of the table following their 2-0 win over Crystal Palace but their performance left much to be desired as the North London club failed to open up the side placed at the bottom and struggled to create clear-cut chances until Mikel Arteta scored from the spot to put Arsenal ahead.
However, the Gunners are unbeaten in their last eight games in the Premier League and have won seven and drawn only one of their previous fixtures. Mertesacker expects the run to continue and prove people wrong who have been attributing their form to a lack of hard fixtures.
"We wanted to come back as quickly as possible as a strong unit. What we showed was good enough to respond. But there will be more tests to come and that will be crucial for the rest of the season. We want to surprise people more and more, that is what we need to do but we do not look too much at the other sides. We are in a strong and interesting position, so we are aware of it and try to keep it - but that is the difficult thing, to keep it," Mertesacker told www.arsenal.com.
The German international also praised Wojciech Szczesny who made two world class saves after the Gunners were down to ten men to keep them in the game.
"We had a decent goalkeeper as well, he saved three times when they were in a decent position. We do not need the goalkeeper that much, but in those situations we do need him desperately. He did a good job, but the whole team did - and that is his job, to save us sometimes," he concluded.