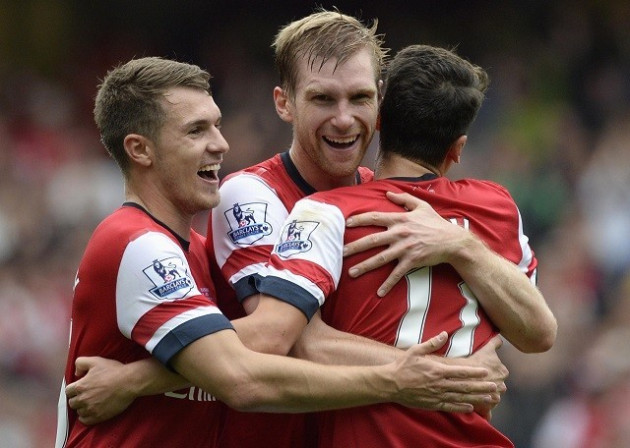 Arsenal defender Per Mertesacker believes that the Gunners need to tighten their defence before harbouring any hopes of challenging for the Premier League title.
The Premier League leaders were brought down to earth by Borussia Dortmund in a 2-1 loss at the hands of the Bundesliga giants in the group stages of the Champions League at the Emirates. The Gunners were unbeaten in seven games in the Premier League but Dortmund worked on their deficiencies and proved that the Gunners need to be more defensively sound when faced against tough European opposition.
A mistake from Aaron Ramsey led to the first goal where the Welshman while trying to dribble out of defence, lost the ball to Marco Reus who passed it to Henrikh Mkhitaryan to finish with aplomb. The second goal was a result of poor defensive positioning, as Robert Lewandowski was left unmarked and the Pole strode into the penalty box to score while the Gunners were in the ascendency in the latter half of the second period. Mertesacker, though not at fault for either of the goals, stressed the need to work on their frailties with a must win game against Dortmund stationed on the horizon.
"We know we are on a good run, but we know it needs more than just playing with full freedom and vision - we need to defend first and the we can switch the rest on. You have seen what can happen after that," he told the Evening Standard.
The Gunners are flying high in the Premier League, unbeaten in their last seven games, but the Gunners have kept only one clean sheet thus far, which was against Tottenham. The German international was more appreciative of their attacking force, with the likes of Mesut Ozil, Santi Cazorla, Tomas Rosicky each capable of turning a game on its head.
"We have players who can play so quickly together. Tomas Rosicky came in and fitted into everything as well as Mesut (Ozil) or Jack (Wilshere). When those three combined together, you could feel some magic in the air, a real chemistry. Mesut does not need to adapt to our style because he is a natural talent. You could see that against Norwich, when we played such good football," he concluded.