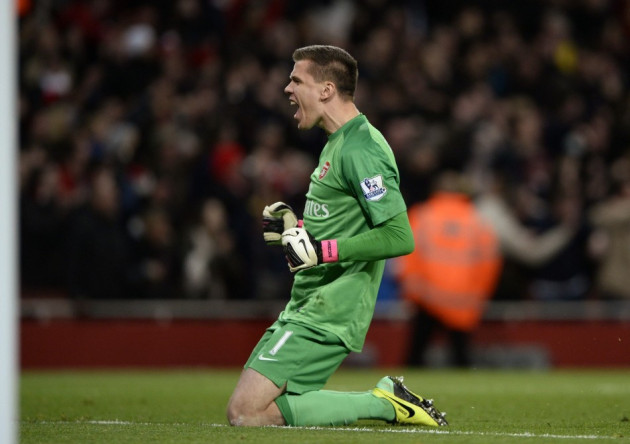 Arsenal goalkeeper Wojciech Szczesny believes that the Gunners can win the Premier League if they can keep up their current form.
The Gunners are currently top of the league table, four points ahead of Chelsea, and are looking likely to put in a major push for the title, for the first time in six years.
Their 3-0 win away to Cardiff will send a strong message to the title contenders with both Manchester clubs dropping points at the home of the newly promoted club. Aaron Ramsey scored a brace and Mathieu Flamini scored his first goal since his return to Arsenal to cap off a mesmerising win in the capital of Wales.
Arsenal have a tough series of fixtures to look forward to in the month of December, having to play the likes of Hull City, Everton, Napoli, Manchester City and Chelsea in close succession.
However, Szczesny, who pulled off a brilliant save against Cardiff to keep the Gunners at par, believes that they can overcome anyone if they can maintain their current goal scoring form.
"We spoke about it before the game - we knew that Man United and Man City dropped points at Cardiff and that it would send a very strong message to our rivals if we won," said the Pole. We're in a position that we'd like to be in for as long as possible. But it really doesn't matter where we are now. It matters where we are in May," Szczesny said.
"If we carry on like we are now then I'm certain we'll be top in May. But we have a lot of work to do, a lot of tough games to win. There's no point in putting pressure on ourselves. We just want to enjoy every single game, that's bringing the best out of us and I don't think that will change.
"We want to focus on the next game, which is Hull, and to keep on winning. If we do that, get the right result then we'll put ourselves in a very comfortable position at the top of the table," he concluded.