AC Milan have opened talks with Arsenal as they attempt to secure a deal for Danish forward Nicklas Bendtner who has fallen out-of-favour with Arsene Wenger in recent seasons.
The 24-year-old has made more than 100 appearances in all competitions for Arsenal but found his opportunities in the first team becoming more limited two seasons ago when he appeared in just 17 league games.
Wenger then allowed Bendtner to join Sunderland on a season-long loan deal which saw the forward score eight times in his 31 appearances. However, Martin O'Neill was not interested in signing the striker on a permanent basis and he returned to Arsenal at the end of the season.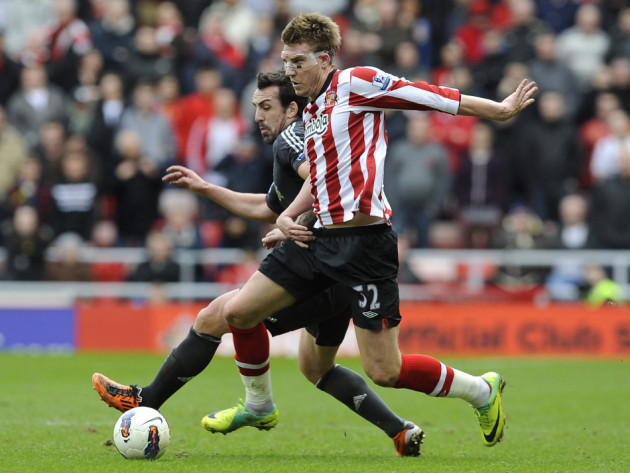 The Metro has reported that Arsenal are desperate to find a buyer for the Denmark international and have already been in talks with Malaga and Benfica, only for negotiations to collapse.
Now the paper is reporting that Italian giants AC Milan are now interested in signing the striker on a permanent deal and have made contact with Arsenal as they attempt to agree terms on a transfer fee.
Bendtner has been left out of the squad for Arsenal's pre-season tour of Asia as Wenger hopes that his representatives will be able to successfully complete a deal with AC Milan.
Milan are on the lookout for a striker after making the decision to sell Zlatan Ibrahimovic to Paris Saint-Germain last week and it seems they have settled on Bendtner.
While he may have struggled to always impress in the Premier League he has always excelled for Denmark and continued his good scoring form at Euro 2012 where he scored two goals against Portugal.
The Metro believes that AC Milan are willing to pay as much as £7.5million for the striker who indicated last season that he was looking to secure a permanent move away from the Emirates.
"I am ready for new challenges. I have heard about concrete interest from other clubs, who sound interesting, but I can't say more than that right now. After all, I am still under contract with Arsenal, so I have to get back to Arsenal and talk to them first," Bendtner told Tipsbladet back in May.
"On the specific matter of staying with Arsenal, I have to say I need something new to happen for me. There is no panic thinking about my future. Now, it's all about Euro 2012 for Denmark and afterwards I can look at my club future."