Arsene Wenger and Olivier Giroud have both expressed their disappointment over the "very harsh" decision that will see the Arsenal forward banned for the next three games.
The France international was given a straight red during the Gunners' 1-0 win over Fulham last Saturday following a challenge on Stanislav Manolev, a decision the Arsenal manager initially had no complaints over.
But following this week's failed appeal to overturn the decision, Wenger has suggested the red card and subsequent ban were both unnecessary.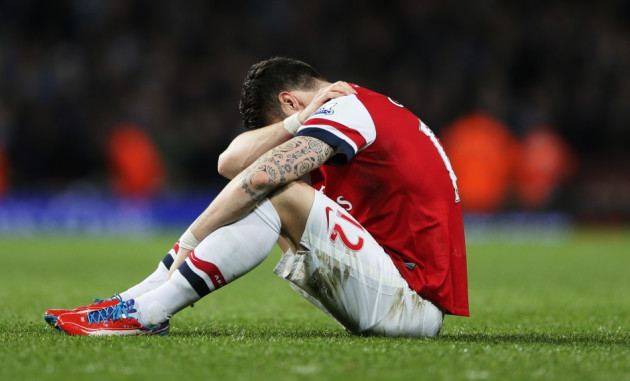 "It's a harsh decision," the Arsenal boss told the club's official website. "After the game, I was a little bit less convinced that he didn't deserve the red card but having seen it again, I feel it's completely accidental and a very minor incident.
"That's why I decided to appeal. I'm sad that it didn't work but we have to cope with it."
Giroud is now set to miss games against Manchester United, Queens Park Rangers and Wigan. With the Gunners still in a relentlessly tight battle for a top four finish, Wenger was left disappointed that he will be without his forward despite having legitimate grounds for appeal.
"You weigh that up but honestly nobody could accuse you of a frivolous appeal when you see what happened again," Wenger added.
"I thought 'frivolous appeal, no - but will they overturn the red card?' For me that was 50-50. But we were never in doubt of it being [seen as] a frivolous appeal."
Giroud was also left astonished by the decision to uphold the original verdict. The former Montpellier striker will be available for selection for the last game of the season against Newcastle United, but feels aggrieved by the FA's decision.
"I was very surprised at the verdict as my action was unintentional," the 26-year-old said, Sky Sports report.
"It does not hurt me but the rules in England are really very harsh. Very harsh indeed."
Wenger will now be left to choose between Lukas Podolski and Theo Walcott to lead the line in the club's next three fixtures. Walcott leads the Gunners' goal scoring charts with 18, one ahead of the Frenchman, while Podolski has plundered 14 in his debut season.