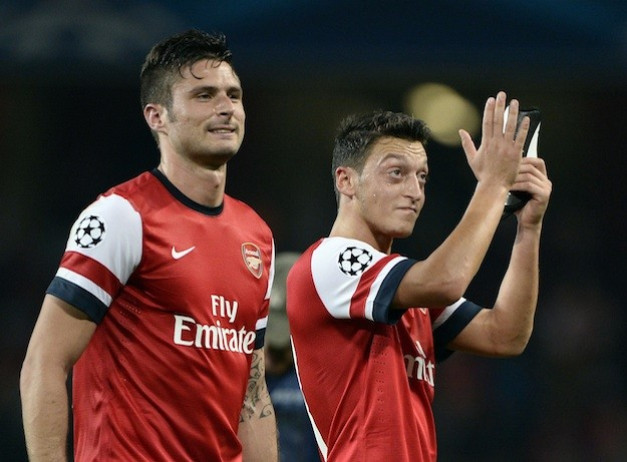 Olivier Giroud believes some of the gloss has been taken off his impressive displays as media coverage has focused more on new signing Mesut Ozil, with the Arsenal striker admitting that the negative press surrounding his performances in England has been frustrating.
When Giroud made the move to the Gunners in the summer of 2012 he was put straight in the spotlight as Robin van Persie departed the club for Manchester United in the same transfer window.
The France international had a moderately successful first season at Arsenal but in the current campaign has been the go-to man as his goals have helped the club reach the top of the Premier League and gain maximum points in the Champions League.
While he admits that the media scrutiny has been difficult Giroud insists he's happy to put up with it, though he would prefer critics recognised his performances before the arrival of Ozil.
"When you arrive in this position, you have to have ambition, know what you're getting yourself into," Giroud told France Football, via ESPN. "Now, you're in the big boy's playground. I wanted to be here, at a big club, but you have to accept that afterwards.
"I say it again, I'm happy with my first season and I'm happy with my good start to this season. Frankly, I'm really enjoying myself right now.
"What's more, we've picked up a great No.10 who's going to chip in. They're going to say it's easier to score at Arsenal now that there's Ozil. That if Giroud scores, it's because there's Ozil. But Giroud scored before Ozil arrived."
Giroud also recalled the scrutiny he faced when he first made the move to Arsenal with many hopeful that he would score as many goals as Van Persie had in his final season with the Gunners.
"At a point in time last year, certain things annoyed me," he explained. "I wasn't hurt, I wouldn't go that far. But they p***** me off. You run yourself into the ground on the pitch, you do yourself in, and you get the impression that people didn't see the game. At the end of the match, they just look at the score and don't see the content.
He continued: "When I arrived last year, subconsciously, I perhaps put myself under more pressure than I do today, perhaps too much because I'd 'replaced' Van Persie," he said. "I tried to keep myself free of that, but of course I thought about it.
"At the start of last season, honestly, I wasn't doing the right things. When it came to finishing, I was tense. You would have said I was as stiff as a stick. By winning my place over the course of the matches, I played a little less with the handbrake on."