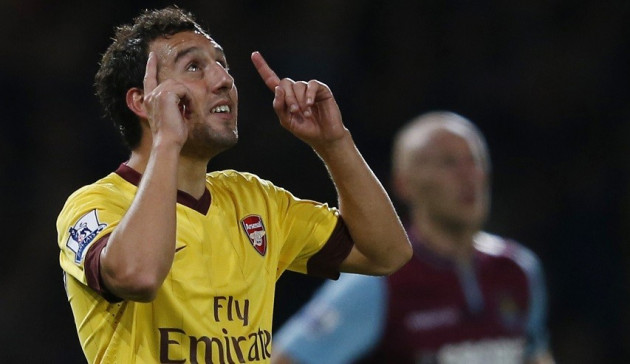 Spanish midfielder Santi Cazorla has revealed he previously turned down the opportunity to join Real Madrid before speaking to various teammates and deciding to make the move to Arsenal.
The 28 year old was a revelation for the Gunners last season as his craft and guile made him in instant success; his 12 league goals and 11 assists proving that he easily adapted to life in the Premier League.
Injury has prevented him from making a similar impact at the start of the new season but it seems Arsenal could well have missed out on signing him at all had he chosen to listen to the advances of Real Madrid.
In an interview with Sport magazine, Cazorla reveals he was twice approached by the Spanish giants but in the end asked former Arsenal stars Cesc Fabregas and Robert Pires about making the move to north London.
"Yes, there was an opportunity [to join Madrid]," said Cazorla. "But in football, every day the negotiation changes. And in the end there was no possibility to go to Madrid. But it's no problem for me now."
"I spoke with them both when Arsenal came to me, and their opinions were very important. Fabregas spoke with me and told me it's a top club with a great history and maybe you can win trophies there. That was a big change for my career, because at Villarreal and Malaga it's very difficult to win trophies.
"I had always watched Arsenal, though, because I loved the Premier League. It's good football, good stadiums, atmosphere... I remember Bergkamp and Thierry Henry especially, because they were top players in a good team. Why Bergkamp? He had so much technical quality - I loved watching him play."
Had Cazorla made the move to Real Madrid he may have lined up alongside Mesut Ozil, but now the former Malaga midfielder has the chance to play alongside the German international at the Emirates and he is already impressed with what he has seen.
"He has so much quality on the pitch," adds Cazorla. "That is why him coming to Arsenal was so important, because Ozil is a top player. And I think for the fans it's more - I don't know how to explain - more happy, no? Because such a good player coming to the club means it's possible to win trophies."
"It's difficult to understand why Madrid let him come to Arsenal. But for us it's good."