Spaniard Hails Mikel Arteta's Advice During Gunners Move
Santi Cazorla says Mikel Arteta helped with his transition to Arsenal
Santi Cazorla says the impact of Mikel Arteta on his performances for Arsenal has been massive, with the midfielder offering priceless advice on making the change from Spanish to English football.
Cazorla has made a brilliant start to the season, creating chances from all over the park for the Gunners as he settles into life at the Emirates, and his goal against Liverpool will have given fans more hope of the club finally ending their trophyless run.
While Wenger has touted the 27 year old as possibly being the buy of the season, Cazorla insists that Arteta has had a big hand in giving him such a successful start for Arsenal.
"Arteta has advised me a lot, he told me football is much faster and less tactical than Spain," he told El Pais, via Goal.com. "It's more give and go.
"Mikel [Arteta] has helped me to learn to see the game and said that if we play rapidly with the ball we're going to create a lot of danger and we'll beat most teams.
"Wenger wants him [Arteta] now as a defensive pivot and he's doing it very well. He gives real balance and he can win the ball back and play it out because with the ball he's spectacular."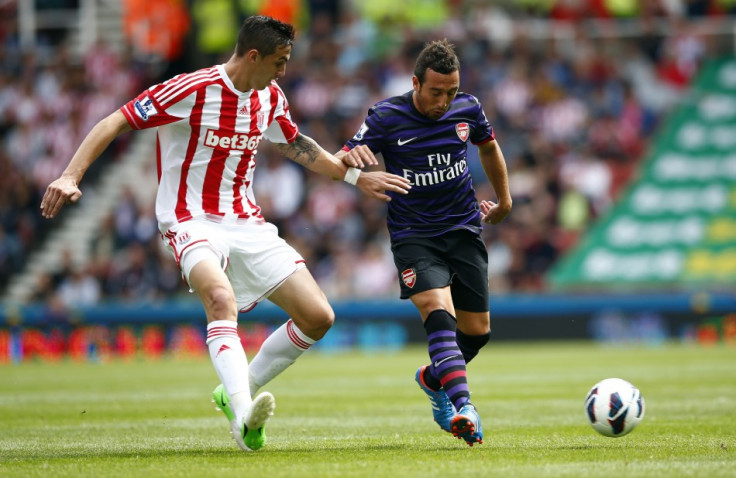 Arteta spent his youth career in Spain, part of which was at Barcelona, before moving to Rangers and returning to his native country for Real Sociedad, and eventually onto Premier League outfit Everton.
Cazorla, meanwhile, has spent his entire career in Spain, and though it was thought that he might take some time to get used to English football, the winger says he was ready to deliver for Arsenal from day one.
"They have paid an important amount of money for me and the role they've given me is the one I like," he explained. "I love the style of the team. Wenger's philosophy is to control the game and I like to be on the ball. Furthermore, the boss has put me in a position, second striker, with all the freedom I want to have.
"He told me to be at ease and that he'd play me where I could most help the team. It surprised me in preseason when he put me as the second striker. I've come to play on the wings with the freedom to move inside, but Wenger has immediately put me in this position. With Arteta, Diaby, Rosicky and Wilshere, who is recovering from injury, we're going to have a lot of the ball."
© Copyright IBTimes 2023. All rights reserved.