Arsene Wenger has claimed that Santi Cazorla could be good enough to be buy of the season for Arsenal, while Lukas Podolski is going to take some time to adapt to the Premier League as the striker struggled to convert against Sunderland in their season opener.
Cazorla was all over the park on Saturday as the Gunners played their first game without prolific goal scorer Robin van Persie, and while they dominated the Black Cats on the Saturday afternoon fixture, Podolski was unable to convert in his first competitive showing for the north London club.
But Wenger isn't worried for his striker at this stage, telling the Arsenal website: "When you come from a wide position, it is not easy to do that. But he will get there. He is a fantastic finisher, but had no real opportunity [against Sunderland].
"I will have to watch the game again and see what he did when we had the ball. I will have to study it."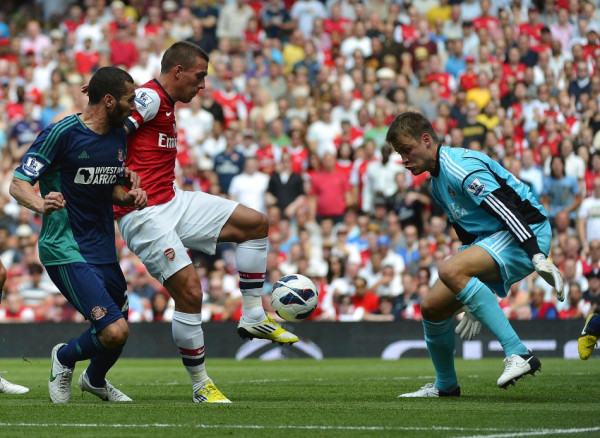 Cazorla, meanwhile, has already shown that he will be an integral part of the Arsenal squad this season. And Wenger was full of praise for the Spaniard, who Gunners fans were particularly excited to watch in the flesh.
"He played very well and looks like he could be one of the buys of the season," he explained.
"He has everything you want in the game. He can play short, he can play long, on the right or left, he can play the final ball and works hard as well. He is a fighter so it is very positive for us.
"[He settled quickly and] that shows people who say you need to play a long time together. Great players do not need a long time [to settle].
"I see him as a centre forward but he has some work to do, to change his game a little bit, make runs in behind to protect the ball and move around the box."