Alan Smith believes that Arsene Wenger will be particularly disappointed with Arsenal's draw against Southampton on New Years' Day, as the side look to make their mark on a top four finish.
The Gunners' season has so far been disappointing, and while at the start of the season Wenger had targeted a title fight, the north London club are now looking at the prospect of a tough fight for a Champions League spot next season.
Currently fifth on the table with a game in hand, the match against Southampton should have been very winnable for Arsenal, but their only goal for the game came from their opposition thanks to Guly do Prado.
And Smith believes that the club has reached crisis point, as they look to convinve Theo Walcott to not join a growing list of stars who have walked away from Arsenal in search of silverware.
"After the results and goals they've scored lately Wenger would have expected more from his side," he told Sky Sports. "In the first half they didn't play so well but in the second half you'd expect them to go on and make their extra class and ability count.
"Maybe there was a lack of urgency because they didn't get the ball in the box early enough.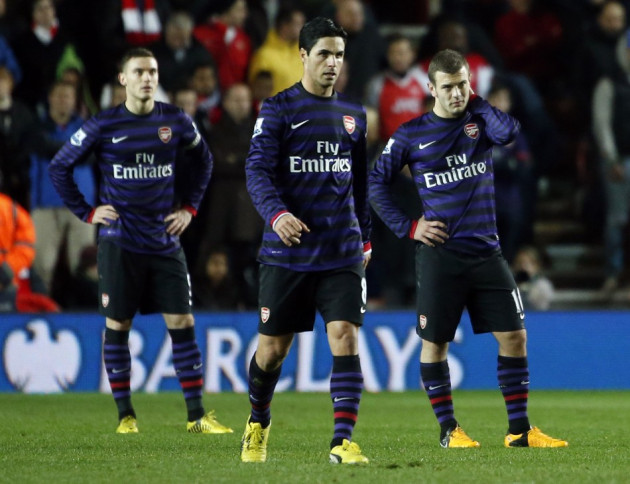 "But Tottenham won before this match and Chelsea are gathering steam, so there's going to be a real scramble for third and fourth this season and Arsenal can't afford to drop points like that."
Smith continued: "Arsenal never really got going and they didn't give Theo Walcott much service.
"But Southampton did well to shut down Jack Wilshere, Mikel Arteta and Santi Cazorla in the middle of the park. Arsenal are strong when they are able to dominate the midfield but Southampton condensed it and they couldn't find a way through.
"Southampton stood strong and whatever Arsenal managed to throw at them they coped with."
Arsenal now look ahead to Manchester City and Chelsea in the league, and will need to work hard to prove that they are still in serious contention with the likes of the Blues and their cross town rivals for a coveted Champions League place.