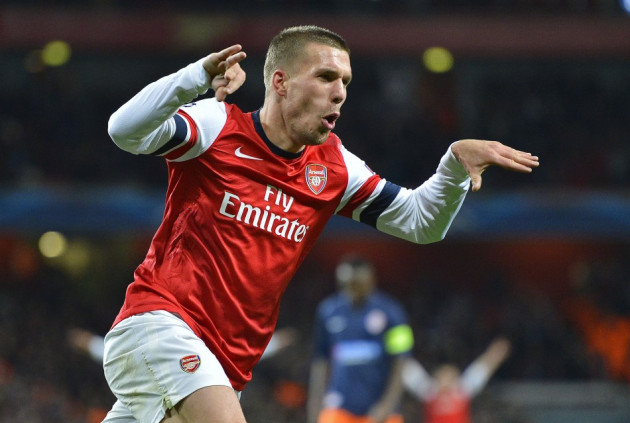 Lukas Podolski insists that he is unconcerned by the prospect of coming under serious pressure to keep his place in the first team next season as Arsenal continue their pursuit of Liverpool forward Luis Suarez.
Arsenal have seen an offer of £40m plus £1 rejected by Liverpool but it seems Gunners boss Arsene Wenger is determined to bring a world class striker to the club for next season.
Podolski made 33 Premier League appearances last season but could see that number dramatically fall if another striker was brought to the club.
However, the German international insists that he is unafraid of increased competition and is instead focusing on improving his own performances rather than worry about new arrivals.
"I'm happy when players come in. I will play with the best players in the world but the club and the boss make the decision," Podolski told the official Arsenal website.
"I'm not scared about big names - I'm happy when big names come in. When a big striker or a big defender comes in, they help the team and they help me. We will see what happens in the next [few] weeks.
"Every season is the same; players come in and go out. The newspapers write a lot of names but I think we have a good team and a good atmosphere here. When players come in, it's good for the club.
"We are at a big club at Arsenal, so when all players are fit and we don't have injuries, there's a big competition. Every player loves to play football and nobody wants to sit on the bench."
Podolski impressed in his debut season in England, scoring 11 Premier League goals and 16 in all competitions after moving from Cologne last summer.
He will be looking to improve upon this goal tally next season as Arsenal look to capitalise on major changes at Manchester City, Chelsea and Manchester United who have all apointed new managers during the summer.