Wojciech Szczesny's dad believes that Arsene Wenger is the man to blame for his son's poor performances this season as he has not properly managed the young goalkeeper.
The 22-year-old has made some high profile errors this season and Wenger made the decision to take him out of the firing line in the last two games against Bayern Munich and Swansea.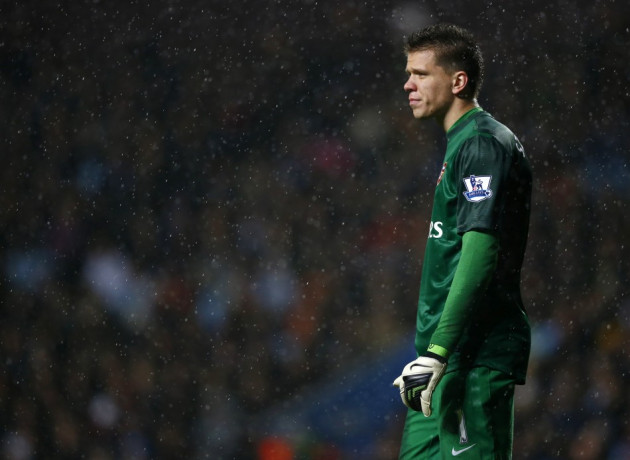 In both games Lukasz Fabianski has managed to keep a clean sheet and there is a feeling that he will keep his place in his side, after Wenger praised his performance in the Champions League victory over Bayern.
"He played with authority. We know his talent and I'm very happy with his performance," Wenger told Arsenal.com. "He has changed a lot, there has been a complete mental transformation in Lukasz's attitude. He is more vocal, has more authority and mentally he absorbs the pressure of the game much better."
Wenger claimed that he had rested Szczesny because he was "mentally" fatigued but the goalkeeper's dad, who played in the Champions League for Legia Warsaw and won seven caps for Poland, believes that the manager is culpable for his downturn in form.
"Wenger already started to look for the scapegoat. It is not the way the boss should behave," Maciej Szcsesny told Polish newspaper Przeglad Portowy, as reported in the Metro.
"Wojciech has had two serious injuries. He played with one in April and May (last year). He shouldn't have agreed to play that time, but the coach insisted.
"Wojciech did not train the whole week and then a warm up on Friday and played the match on Saturday. He was naturally more susceptible to minor injuries and his form was going down.
"Wenger was playing with the young man's good health and Wojciech agreed foolishly. In my opinion Mr Wenger messed up a lot in April and May. I don't blame the young man who went along with his coach, his current lack of form is a result of those two months.
"Then in August there was a foot (ankle) injury after which he played almost instantly. After seven weeks out Wojciech trained for just seven days and played the match. How on earth can he be on his highest form?"
Despite criticising Wenger, the Polish keeper's father is certain that Szczesny still has a bright future at Arsenal and that he can go on to be the club's number one for the next decade.
"This last period has not been successful for Wojciech, the fact that Arsene Wenger did not take him to Munich shows something," added Maciej Szczesny.
"However, I think my son can be the number one (Arsenal) keeper over 10 years, he just needs to come back to form and then a situation where we can stop to wonder who will stand between the posts."